The Vinyl Record Revival
If there is one certainty in the global music market - it is that it's almost impossible to predict the future. Who would have thought that in 2014, local record stores and specifically vinyl record sales would even be relevant in the conversation, let alone soar to new heights?
Yes, the vinyl record is back, though some will tell you that it never went anywhere. In the US, Nielsen Soundscan estimates that the sales of vinyl records in 2014 were almost 9 million units. In the UK, according to Official Charts, vinyl sales in 2014 topped more than one million for the first time since 1996. Not bad for a niche product.
But these numbers don't include the sales of used vinyl, which is also a booming industry. In fact, websites like eBay, Discogs and Amazon all report higher vinyl sales over the past few years. According to Nielsen SoundScan vinyl makes up only 3.5 percent of overall music sales, however a decade ago, that figure was 0.2 percent.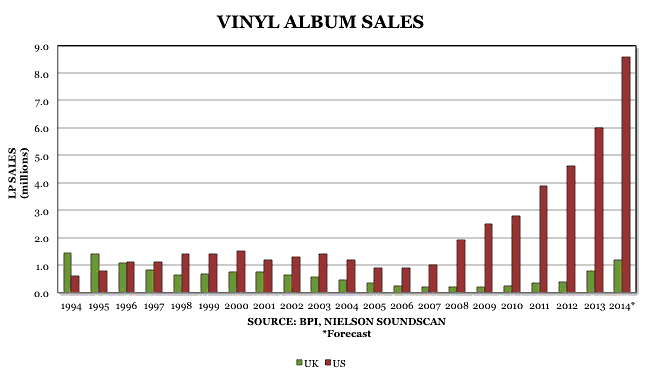 WHY VINYL?
So who is buying all the records?  Research has shown that it is not only the over forty crowd that is purchasing vinyl records, but indie music lovers between 18 and 24. Fueled by the Record Store Day phenomenon, nostalgia, the tactile experience of actually owning, playing and collecting vinyl, the true analog sound, album cover art, various record shows around the country and the dizzying array of back catalogs and special vinyl pressings - have all increased the sales of this historic audio medium.
Gennaro Castaldo, Spokesperson for the British Phonographic Industry (BPI) offers another opinion:
"I think it's because vinyl seems to symbolize the very heart and soul of music, and is part of rock-and-roll culture going back to Elvis and the Beatles." (Source http://www.bpi.co.uk/default.aspx)
THE SOUND QUALITY
The late Apple CEO Steve Jobs, is reported to have listened to vinyl at home, all the while promoting the iTunes Store.  Yes, digital music is convenient, you can download songs in an instant and have them available in your music library for as long as you keep the file. Vinyl record collections need space and the vinyl record is not a perfect medium, in fact, it is labor intensive to maintain. Record collections must be stored properly, cleaned often, and one must have a decent turntable to get the true rewards. Does it sound better than its digital counterpart?  That depends on who you ask. Much has been written and debated on the topic and to vinyl lovers, the pop and crackle sound of the needle as it rides on the grooves of a record is second to none.  There has also been much written about the "loudness wars" and one must make their own judgment as to whether records sound better. To learn more about the sound of vinyl, go HERE:
http://www.oregonlive.com/music/index.ssf/2014/11/does_vinyl_really_sound_better.html
CRATE DIGGING AND TURNTABLES
Record collectors and crate diggers will swear that there is nothing better than the hunt for that elusive record for their collection and are always searching for their next treasure. Besides local record stores, you can find vinyl at a Goodwill or second hand shop, garage and moving sales, record swap meets or even former collectors who are either tired of the hassle or downsizing. Not only is it fulfilling, it can be profitable as well.  
According to The Vinyl Factory website, Cory Feierman of Academy Records was doing some crate digging on the street outside of a bodega on First Avenue, New York when he found a copy of  Yoko Ono / Plastic Ono Band "Open Your Box," that was made specifically for Yoko Ono and one of which only six known copies in existence. After listing the record on eBay, he was able to secure a fantastic selling price of $1,703.99 for the 7 inch rarity. But his luck got even better with the next find, you can read all about his $14,100 find at the Vinyl Factory website HERE:
http://www.thevinylfactory.com/vinyl-factory-news/man-finds-ultra-rare-records-in-bargain-bin/
Additionally, there are a multitude of online vinyl vendors, where one can crate dig in the comfort of their own living room as well as shop for high end turntables. Now, to some, this is a major sore spot because it takes away from the Mom and Pop record stores. But what if you don't have a record store near you?  
Riding the vinyl revival wave are many websites devoted to not only record collectors, but audio enthusiasts as well. There are some who believe that turntables are hard to come by, but that is not the case. We spoke with Seth Frank, owner and operator of www.SoundStageDirect.com about the vinyl revival and the online shopping experience.
"We offer so much more than the LP records you'll find at your local store. For ten years we have helped our customers build their collection of LP's and a vast selection of factory-sealed vinyl records," explained Frank. "In fact, we have the largest choice of new releases and reissues online, over 40,000 titles in all."
"We are also your source for top-of-the-line audio equipment. And when creating the perfect listening room to fully appreciate your collection of vinyl albums, we offer the best equipment available," stated Frank. "As an authorized & certified dealer of VPI turntables, we can help you choose the right unit that meets your needs and fits within your budget."
In selling factory sealed vinyl, online vinyl retailers can eliminate the grading process that is a quandary with regard to buying used records; because the process of grading records is so subjective. Some other benefits of shopping online are that you can do it from the comfort of your own home, deal with vast vinyl selections from every genre, offer online chat and telephone support as well as offer pre-orders of special reissues or releases.
RECORD STORE DAY
Did you know that there are special "vinyl holidays" in the retail market, including Record Store Day, http://www.recordstoreday.com/ that offers vinyl lovers not only limited special edition LP's but some that artists record specifically for the annual event. It is a global effort that not only includes the US, Canada and Mexico, but five European countries as well. Add to that the exclusive Black Friday Record Store Releases and record labels and musicians all help to fill record collectors insatiable appetites.
The first Record Store Day, in 2008, had about 10 releases and in 2009 the second Record Store Day extravaganza drew more than 100 exclusive releases.  And the number of releases and reissues have grown over the years and in 2014, Record Store Day saw its best sales numbers to date. There is much excitement and enthusiasm for Record Store Day 2015, which will be held on April 18th.
FUEL FOR THE VINYL FIRE
Also fueling the vinyl revival are the amount of special releases and back catalog reissues. In fact, classic groups like the Beatles, Led Zeppelin, Rush, Lynyrd Skynyrd, Genesis and Jethro Tull, have either reissued parts or all of their catalog or will be doing so in the future. Legendary jazz record label Blue Note is reissuing some of their vinyl standards in the form of a 180 gram series. Iconic crooner Frank Sinatra's catalog is now available on vinyl and Death Waltz Recordings is reissuing horror film scores. 
Elaborate box sets and special 180 gram audiophile vinyl by companies such as Music On Vinyl, Sundazed, Numero Group and even Newbury Comics have gotten into the vinyl reissuing arena, providing a steady stream of classic titles that are being repackaged and resold.
One of 2014's biggest sellers was vinyl lover and analog fanatic Jack White's LP 'Lazaretto,' which set a one-week vinyl record with more than 40,000 copies sold. The record was the first vinyl issue to sell 60,000 copies since Pearl Jam's 'Vitalogy' in 1994. White has been a vinyl pioneer of sorts and his Third Man Record label is on the cutting edge of vinyl variations, reissues and special vault packages.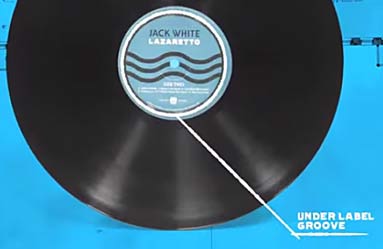 Additionally, 'Lazaretto' was no ordinary vinyl record release, as the album includes hidden grooves under the center labels, locked grooves on both sides, spinning angel holograms and other vinyl treats - all released on split blue and white vinyl. The album also plays extra tracks at 45 rpm and 78 rpm as well as the traditional 33 rpm, This may make it the first 3-speed record ever produced. You can read more about it HERE:
http://www.hypebot.com/hypebot/2014/12/5-ways-third-man-records-made-vinyl-cool-again.html
And White continues his trendy and creative vinyl releases in 2015 with a recent announcement of a massive White Stripes-Themed Vault Package HERE:
http://diffuser.fm/third-man-records-vault-package-no-23/ 
But Jack White is not the only one blazing a new trail for vinyl lovers. Record companies and even the artists themselves recognize the new trend and vinyl releases now come in a multitude of colors and variations, splatter vinyl, special die cut records in all shapes and sizes, spectacular picture discs and limited edition LP's as well as heavier 180 and 200 gram records. 
Vinyl records have also been manufactured to glow in the dark, clear see through vinyl, and a recent white 12" "Ghostbusters" single reissue came with a marshmallow-scented sleeve. And if that isn't enough, records have been made with chocolate, human hair, blood, leaves, string and even human urine, all being mixed in with vinyl and pressed into records. This trend has led to manufacturing delays as these specialty records are time-consuming to make.  Read more about it HERE http://blogs.wsj.com/economics/2014/12/11/what-weird-vinyl-orders-are-doing-to-old-school-record-production/
Read more about some of the coolest vinyl releases of all time HERE:
http://diffuser.fm/coolest-vinyl-releases-of-all-time
ONLINE VINYL RECORD CLUBS
There is also a new trend catering to the online market. Vinyl record clubs and social media sites have sprung up to help consumers, not only share their experiences, but satisfy their vinyl record appetites.  
http://vinylmeplease.com offers special members-only pricing on records & gear. 
https://feedbands.com/ presents recordings that are always first pressings and the records pressed on a monthly basis are based largely on the votes an artist has gotten via their app and website. Each record also comes with a certificate of authenticity that is unique, numbered, and embossed.  
http://www.prescribedvinyl.com works a little different in that they are always searching for "fresh" sounds and "scouring the digital universe for analog gold." 
Are vinyl subscription clubs the new wave of the future?
Read more HERE:
http://www.billboard.com/biz/articles/news/record-labels/6436642/are-vinyl-subscription-clubs-the-future-of-analog-listening
THE VINYL DILEMMA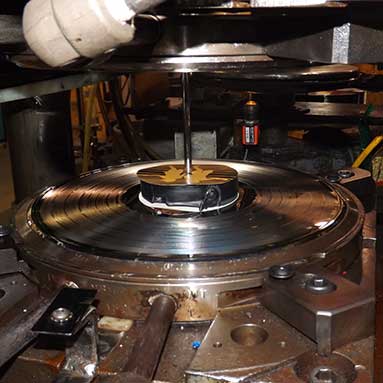 One of the tremendous hurdles that the vinyl industry is the facing in 2015 and beyond is the fact that no one is making new equipment to make the vinyl records. In reality, the equipment that exists today is outdated, is in constantly in need of repair and has parts that are hard to come by; some have to be machined either on site or shipped out. This costs time and money. There is also a scarcity of the raw material needed to make the records, raw polyvinyl chloride. Find out more HERE:
http://www.factmag.com/2014/12/15/us-vinyl-suppliers-struggling-to-keep-up-with-demand-from-pressing-plants/
United Record Pressing, is a Nashville company and one of the oldest record producing plants in the country. In the summer of 2014, the company expanded its plant to the cost of $5.5 million - all so it can double production. It now runs its 22 presses 24 hours a day, six days a week, to produce 40,000 records a day.
Memphis Record Pressing, a new vinyl pressing plant that will be operated by Fat Possum founder Matthew Johnson, has just opened their doors; not only to keep up with their own demand for vinyl but also manufacturing records for others. But these are not new vinyl pressing machines he is using, rather machines bought second-hand that he refurbished and installed.
Read more HERE:
http://www.billboard.com/biz/articles/news/record-labels/6415103/fat-possum-opens-its-own-vinyl-pressing-plant-to-meet-its
Another vinyl record maker, Rainbo Records owner Steve Sheldon stated that his plant can produce 28 records a minute, but he wishes he could press more. Sheldon has increased his staff and now presses records 24 hours a day, 6 days a week to keep up with demand. Read more HERE:
http://www.npr.org/2014/11/29/367420344/vinyl-once-thought-dead-makes-a-comeback-in-the-digital-age
In fact, there are only about 15 vinyl-pressing factories in the United States and this obstacle will only make the pressing plants work harder to keep up with the increased demand, not only to make the musicians happy, but the collector's vinyl palettes as well. Manufacturing vinyl records is an expensive, time-consuming process and you can learn more HERE:
http://www.thevinylfactory.com/vinyl-factory-releases/how-to-press-a-record-30-photos-from-inside-the-vinyl-factory/
Is vinyl going to become as popular as it was when it was the main format that music lovers used?  Not quite, but this historic format is being revived for a new generation. The vinyl resurgence has also helped keep independent music stores in business, record pressing plants operating at full capacity and is a fad that will be with us for years to come. Not bad for a niche product!

Article by: Robert Benson


---
More DigitalDreamDoor Lists
DigitalDreamDoor.com is to be used for entertainment, educational, or research purposes only.
Mobile Device Home Page
digitaldreamdoor.com
Copyright © 2015
DigitalDreamDoor.com