100 Greatest Funk Songs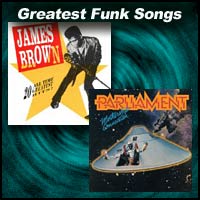 1. Get Up (I Feel Like Being a Sex Machine) Part I - James Brown
2. Papa's Got a Brand New Bag - James Brown & The Famous Flames
3. Thank You (Falletinme Be Mice Elf Agin) - Sly & The Family Stone
4. Tear the Roof Off the Sucker/Give Up the Funk - Parliament
5. Theme from "Shaft" - Isaac Hayes
6. Superfly - Curtis Mayfield
7. Superstition - Stevie Wonder
8. Papa Was a Rollin' Stone - The Temptations
9. When Doves Cry - Prince & The Revolution
10. One Nation Under a Groove - Funkadelic
11. Cold Sweat Part I - James Brown & The Famous Flames
12. Out of Sight - James Brown & The Famous Flames
13. Funky Broadway - Dyke & The Blazers
14. Cissy Strut - Meters
15. Chameleon - Herbie Hancock
16. It's Your Thing - Isley Brothers
17. Flash Light - Parliament
18. War - Edwin Starr
19. Super Freak Part I - Rick James
20. Little Red Corvette - Prince & The Revolution
21. Don't Stop ('Til You Get Enough) - Michael Jackson
22. Family Affair - Sly & The Family Stone
23. Living for the City - Stevie Wonder
24. I'll Take You There - Staple Singers
25. That Lady Part I - Isley Brothers
26. Mr. Big Stuff - Jean Knight
27. Tell Me Something Good - Rufus
28. Kiss - Prince & The Revolution
29. Higher Ground - Stevie Wonder
30. Play That Funky Music (White Boy) - Wild Cherry
31. Car Wash - Rose Royce
32. Brick House - Commodores
33. Fire - Ohio Players
34. Low Rider - War
35. Pick Up the Pieces - Average White Band
36. Got to Give It Up Part I - Marvin Gaye
37. More Bounce to the Ounce Part I - Zapp & Roger
38. Jungle Boogie - Kool & The Gang
39. Funky Drummer Parts I and II - James Brown
40. Amen, Brother - Winstons
41. Apache - Incredible Bongo Band
42. The Payback - James Brown
43. Think (About It) - Lyn Collins
44. Word Up - Cameo
45. Express Yourself - Charles Wright & The Watts 103rd Street Rhythm Band
46. Atomic Dog - George Clinton
47. You Sexy Thing - Hot Chocolate
48. Funky Stuff - Kool & The Gang
49. Dazz - Brick
50. Shining Star - Earth, Wind & Fire
51. Hollywood Swinging - Kool & The Gang
52. Do It ('Til You're Satisfied) - B.T. Express
53. For the Love of Money - O'Jays
54. Give It to Me Baby - Rick James
55. Clean Up Woman - Betty Wright
56. Groove Me - King Floyd
57. Ain't Nobody - Rufus & Chaka Khan
58. Rock Steady - Aretha Franklin
59. What is Hip? - Tower of Power
60. You Dropped a Bomb on Me - Gap Band
61. I Can't Stand the Rain - Ann Peebles
62. Genius of Love - Tom Tom Club
63. (Not Just) Knee Deep Part I - Funkadelic
64. Get Down On It - Kool & The Gang
65. Love Rollercoaster - Ohio Players
66. It's Just Begun - Jimmy Castor Bunch
67. Slide - Slave
68. P-Funk (Wants to Get Funked Up) - Parliament
69. I Don't Believe You Want To Get Up and Dance (Oops, Up Side Your Head) - Gap Band
70. Keep on Truckin' Part I - Eddie Kendricks
71. Fight the Power Parts I and II - Isley Brothers
72. Say It Loud - I'm Black and Proud Part I - James Brown
73. Give It Up or Turnit a Loose (In the Jungle Groove remix) - James Brown
74. Kung Fu Fighting - Carl Douglas
75. Bustin' Loose - Chuck Brown & The Soul Searchers
76. Hot Fun in the Summertime - Sly & The Family Stone
77. Sign O' the Times - Prince
78. Cloud Nine - Temptations
79. Ball of Confusion (That's What the World is Today) - Temptations
80. Funkin' for Jamaica - Tom Browne
81. Heartbeat - Taana Gardner
82. Use Me - Bill Withers
83. Shakey Ground - Temptations
84. Future Shock - Curtis Mayfield
85. Just Kissed My Baby - Meters
86. Burn Rubber (Why You Wanna Hurt Me?) - Gap Band
87. Get the Funk Out of Ma Face - Brothers Johnson
88. Freddie's Dead (Theme from "Superfly") - Curtis Mayfield
89. Upside Down (Inside Out) - Diana Ross
90. Lovely Day - Bill Withers
91. The Jam - Graham Central Station
92. Stand! - Sly & The Family Stone
93. Right Place, Wrong Time - Dr. John
94. Computer Love - Zapp & Roger
95. Fantastic Voyage - Lakeside
96. Let it Whip - Dazz Band
97. I Got My Mind Made Up (You Can Get It Girl) - Instant Funk
98. No Parking (On the Dancefloor) - Midnight Star
99. Cutie Pie - One Way
100. Get on the Good Foot - James Brown

100 More Worth Mentioning
101. Doing It To Death Part I - Fred Wesley & The JBs
102. Tramp - Otis & Carla
103. Get Out of My Life, Woman - Lee Dorsey
104. Mothership Connection (Star Child) - Parliament
105. Up for the Down Stroke - Parliament
106. Soul Finger - Bar-Kays
107. The Horse - Cliff Nobles & Co.
108. Memphis Soul Stew - King Curtis & The Kingpins
109. Let a Woman Be a Woman, Let a Man Be a Man - Dyke & The Blazers
110. I Gotcha - Joe Tex
111. Smiling Faces Sometimes - Undisputed Truth
112. Outa-Space - Billy Preston
113. Be Thankful for What You've Got - William DeVaughn
114. Pusherman - Curtis Mayfield
115. I Know You Got Soul - Bobby Byrd
116. Drop the Bomb - Trouble Funk
117. Get Up Offa That Thing - James Brown
118. Bootzilla - Bootsy's Rubber Band
119. Jungle Love - The Time
120. A Love Bizarre - Sheila E. & Prince
121. (Every Time I Turn Around) Back in Love Again - L.T.D.
122. Scorpio - Dennis Coffey & The Detroit Guitar Band
123. Too Hot to Stop - Bar-Kays
124. Last Night a DJ Saved My Life - Indeep
125. She's a Bad Mama Jama (She's Built, She's Stacked) - Carl Carlton
126. Serpentine Fire - Earth, Wind & Fire
127. Slippin' Into Darkness - War
128. Brother's Gonna Work It Out - Willie Hutch
129. Across 110th Street - Bobby Womack & Peace
130. The Bottle - Gil Scott-Heron
131. Jungle Fever - Chakachas
132. The Funky Worm - Ohio Players
133. You Haven't Done Nothin' - Stevie Wonder
134. Don't Stop the Music - Yarbough & Peoples
135. Holy Ghost - Bar-Kays
136. Cosmic Slop - Funkadelic
137. Pass the Peas - Fred Wesley & The JBs
138. Ffun - Con Funk Shun
139. Expansions - Lonnie Liston Smith & The Cosmic Echoes
140. (Fallin' Like) Dominoes - Donald Byrd
141. Juicy Fruit - Mtume
142. All Night Long - Mary Jane Girls
143. Strawberry Letter 23 - The Brothers Johnson
144. Candy - Cameo
145. Take Me To the Mardi Gras - Bob James
146. Fencewalk - Mandrill
147. (Don't Worry) If There's a Hell Below, We're All Going To Go - Curtis Mayfield
148. Street Life - Crusaders
149. Rock Creek Park - Blackbyrds
150. Running Away - Roy Ayers
151. God Made Me Funky - Headhunters
152. The Message - Cymande
153. Hot Pants (She Got to Use What She Got, To Get What She Wants) - James Brown
154. I Can't Get Next To You - Temptations
155. Escape-ism - James Brown
156. Funky Nassau - Beginning of the End
157. Summer Madness - Kool & The Gang
158. Backstrokin' - Fatback
159. Funky President (People It's Bad) - James Brown
160. Why Can't We Be Friends? - War
161. Birdland - Weather Report
162. Yes We Can Can - Pointer Sisters
163. I Can Understand It - New Birth
164. The World is a Ghetto - War
165. Supernatural Thing Part I - Ben E. King
166. N.T. Parts I and II - Kool & The Gang
167. Get Up, Get Into It, Get Involved - James Brown
168. (I Wanna) Testify - Parliaments
169. Everybody is a Star - Sly & The Family Stone
170. The Breakdown Part I - Rufus Thomas
171. Sing a Simple Song - Sly & The Family Stone
172. The Ghetto - Donny Hathaway
173. Mary Jane - Rick James
174. Machine Gun - Commodores
175. Joy and Pain - Maze feat. Frankie Beverly
176. Funky Sensation - Gwen McCrae
177. Movin' - Brass Construction
178. I Want To Be Your Man - Roger
179. We Got the Funk - Positive Force
180. Impeach the President - Honey Drippers
181. Ashley's Roachclip - Soul Searchers
182. Dance to the Drummer's Beat - Herman Kelly
183. Mother Popcorn (You Got to Have a Mother For Me) - James Brown
184. Always There - Ronnie Laws
185. Could Heaven Ever Be Like This? - Idris Muhammad
186. To Prove My Love - Ned Doheny
187. I Thought It Was You - Herbie Hancock
188. Right Off - Miles Davis
189. Love Will Bring Us Back Together - Roy Ayers
190. The Revolution Will Not Be Televised - Gil Scott-Heron
191. Whistle Bump - Deodato
192. Everything I Do Gonh Be Funky (From Now On) - Lee Dorsey
193. Superman Lover - Johnny "Guitar" Watson
194. I Get Lifted - George McCrae
195. Dukey Stick - George Duke
196. If I'm in Luck I Might Get Picked Up - Betty Davis
197. Burning Spear - S.O.U.L.
198. Action Speaks Louder Than Words - Chocolate Milk
199. Soul Power '74 - Maceo Parker
200. Zombie - Fela Kuti




*Proto-Funk
Limbo Jimbo - James Brown
Think - James Brown
Testify Part I - Isley Brothers
Green Onions - Booker T. & The MGs
Land of 1,000 Dances - Wilson Pickett

Post Disco Funk Songs
1. Double Dutch Bus - Frankie Smith
2. In My House - Mary Jane Girls
3. Candy Girl - New Edition
4. Rumours - Timex Social Club
5. Pull Up to the Bumper - Grace Jones
6. Jump to It - Aretha Franklin
7. When I Think of You - Janet Jackson
8. Bounce, Rock, Skate, Roll - Vaughn Mason & Crew
9. Get Down Saturday Night - Oliver Cheatham
10. Somebody Else's Guy - Jocelyn Brown

Top 15 G-Funk Songs
(early 90s gangster West Coast Hip Hop)
1. Nuthin' But a G-Thang - Dr. Dre feat. Snoop Doggy Dogg
2. California Love - 2Pac and Dr. Dre
3. Regulate - Warren G. and Nate Dogg
4. It Was a Good Day - Ice Cube
5. Keep Ya Head Up - 2Pac
6. Gin and Juice - Snoop Doggy Dogg
7. What's My Name? - Snoop Doggy Dogg
8. Funkdafied - Da Brat
9. Fuck Wit Dre Day (And Everybody's Celebratin') - Dr. Dre feat. Snoop Doggy Dogg
10. Thuggish Ruggish Bone - Bone-Thugs-N-Harmony
11. Me Against the World - 2Pac
12. Let Me Ride - Dr. Dre feat. Snoop Doggy Dogg
13. Deep Cover - Dr. Dre feat. Snoop Doggy Dogg
14. This DJ - Warren G.
15. Black Superman - Above the Law

Influential Disco Songs in Funk
Soul Makossa - Manu DiBango
Good Times - Chic
Let's Groove - Earth, Wind & Fire
I'm Every Woman - Chaka Khan
I'm Gonna Love You Just a Little Bit More, Baby - Barry White

Top 5 Electro-Funk Songs
(ranked in terms of influence on funk music as a whole)
1. The Message - Grandmaster Flash & The Furious Five
2. Planet Rock - Afrika Bambaataa & The Soul Sonic Force
3. White Lines (Don't Do It) - Grandmaster Flash & Melle Mel
4. Looking for the Perfect Beat - Afrika Bambaataa & The Soul Sonic Force
5. Jam On It - Newcleus

Top 6 New School Funk Songs
1. Give it Away - Red Hot Chili Peppers
2. Epic - Faith No More
3. Gett Off - Prince & The New Power Generation
4. Cult of Personality - Living Colour
5. Freddie's Dead - Fishbone
6. Renegades of Funk - Rage Against the Machine

Edited By:
Jeff B.
Last Updated:
2008-08-07
Newly added names are in
Red
Criteria:
The 100 greatest funk records of all time. Songs are based on impact, influence, and popularity.
Background:
Funk music is sometimes overlooked and usually lumped with disco music. However, funk music has its own style and culture and was here before disco's birth, born in the mid-'60s by James Brown. Funk music is usually heavily syncopated with polyrhythmic rhythms, horn and percussive sections, and features the guitar. Funk music is known for its breaks (making it a sample pool for much of hip hop and electronic dance music) and obscure classics known as "rare grooves". Important pioneers include James Brown, Sly & The Family Stone, The Meters, and Dyke & The Blazers.

During the '70s and early '80s, some disco and funk music shared blurred lines. This list excludes purely disco records and includes funky psychedelic soul, go-go, Afro-beat via Fela Kuti,and jazz funk. The latter subgenres that spun off from funk (such as electro funk and G-funk) are given their own sidebar lists.
---