100 Greatest Progressive Rock Artists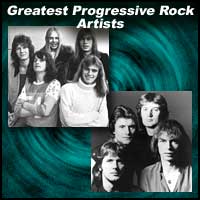 1. Yes
2. King Crimson
3. Genesis
4. Emerson Lake & Palmer
5. Pink Floyd
6. Rush
7. Jethro Tull
8. Mothers of Invention
9. Dream Theater
10. Kraftwerk
11. Traffic
12. Dixie Dregs
13. Gentle Giant
14. Van der Graaf Generator
15. The Moody Blues
16. Marillion
17. Frank Zappa
18. Magma
19. Gong
20. Kansas
21. Tangerine Dream
22. Caravan
23. Mahavishnu Orchestra
24. The Soft Machine
25. Family
26. Hawkwind
27. Mike Oldfield
28. Uriah Heep
29. Camel
30. Rick Wakeman
31. Peter Gabriel
32. The Flower Kings
33. Premiata Forneria Marconi
34. The Strawbs
35. Renaissance
36. Can
37. Goblin
38. Wigwam
39. Queensryche
40. Banco Del Mutuo Soccorso
41. Electric Light Orchestra
42. King's X
43. Anglagard
44. Amon Düül
45. Procol Harum
46. Brian Eno
47. Captain Beefheart & the Magic Band
48. Eloy
49. Porcupine Tree
50. The Alan Parson's Project
51. Bo Hansson
52. The Beatles
53. Spock's Beard
54. Asia
55. Vangelis
56. Le Orme
57. Tool
58. Fate's Warning
59. Ayreon
60. Baryclay James Harvest
61. Ange
62. IQ
63. Utopia
64. Opeth
65. Ozric Tentacles
66. Symphony X
67. Liquid Tension Experiment
68. Transatlantic
69. Steve Hackett
70. Aphrodite's Child
71. Focus
72. Supertramp
73. Adrian Belew
74. California Guitar Trio
75. Anekdoten
76. Savatage
77. Area
78. Hatfield & the North
79. Styx
80. Happy The Man
81. Nektar
82. Henry Cow
83. Robert Fripp
84. Saga
85. Primus
86. Bozzio Levin Stevens
87. Niacin
88. The Nice
89. Shadow Gallery
90. UK
91. The Mars Volta
92. Atomic Rooster
93. Birth Control
94. Andromeda
95. Pain of Salvation
96. Comus
97. Roxy Music
98. Pendragon
99. Rhapsody
100. Stratovarius

100 More Worth Mentioning
101. Coloseum
102. Omega
103. Far East Family Band
104. Roger Waters
105. Kayak
106. Brand X
107. Steve Hillage
108. Egg
109. Pavlov's Dog
110. Faust
111. Toto
112. Yngwie Malmsteen
113. Magellan
114. Spirit
115. Kraan
116. 10cc
117. Evergrey
118. Psychotic Waltz
119. Bill Bruford's Earthworks
120. Blood, Sweat & Tears
121. Glass Hammer
122. Sky
123. Blind Guardian
124. Radiohead
125. Quiet Sun
126. A Perfect Circle
127. Novalis
128. Godspeed You Black Emperor!
129. The Move
130. Portishead
131. Chroma Key
132. Kamelot
133. Sleepytime Gorilla Museum
134. Explorer's Club
135. Steve Morse Band
136. Anyone's Daughter
137. Gryphon
138. Echolyn
139. Kenso
140. No-Man
141. Kate Bush
142. FM
143. 801
144. Trans-Siberian Orchestra
145. Kyuss
146. Rare Bird
147. Mullmuzzler
148. Starcastle
149. Farpoint
150. Platypus
151. Nexus
152. Deus Ex Machina
153. Guru Guru
154. Matching Mole
155. Arena
156. World Trade
157. dEUS
158. Hoelderlin
159. Blackmore's Night
160. Giles, Giles & Fripp
161. Curved Air
162. Gordian Knot
163. Dredg
164. Pallas
165. Planet X
166. Watchtower
167. Index
168. Eternity X
169. Qwestion
170. Poegs
171. Ice Age
172. Todd Rundgren
173. Man on Fire
174. Magnitude 9
175. Sinkadus
176. Arcturus
177. Xii Alphonso
178. The Illusion
179. Ulysses
180. Under the Sun
181. Left Coast
182. Frameshift
183. Tiles
184. Divine Regale
185. Neural Mass
186. Heldon
187. Random Hold
188. The Dayjob Orchestra
189. The Tangent
190. B.L.U.E
191. Dynamic Lights
192. Rudess Morgenstien Project
193. Cario
194. Isis
195. John Paul Jones
196. Osiris
197. Ambeon
198. Emerson, Lake & Powell
199. Extol
200. Quartermass

Edited By:
Drew
Last Updated:
2005-02-21
Newly added names are in
Red
Criteria: -
These bands were chosen for their complex, dynamic, & multi-dimensional playing. For their original use of multi-movement compositions involving theme, structure and scope in addition to their impact on this vital genre of music.


---
DigitalDreamDoor lists are created, critiqued, and revised in the DigitalDreamDoor music forum and are meant to be a guide for discovering the greatest music in the category of your liking.
Mobile Device Home Page
digitaldreamdoor.com
Copyright © 2014
DigitalDreamDoor.com