100 Greatest Roots Of Rock Artists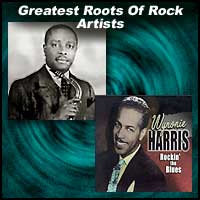 1. Louis Jordan (jump blues singer/saxophonist/bandleader)
2. Wynonie Harris (jump blues singer)
3. Sonny Til & The Orioles (R&B vocal group)
4. Big Joe Turner (jump blues shouter)
5. T-Bone Walker (blues singer/guitarist)
6. The Ravens (R&B vocal group)
7. Roy Brown (jump blues singer/songwriter)
8. Muddy Waters (blues singer/guitarist)
9. Amos Milburn (R&B singer/pianist)
10. Joe Liggins (R&B singer/songwriter)
11. Les Paul (guitarist)
12. Big Jay McNeely (saxophonist)
13. Julia Lee & Her Boyfriends (R&B singer)
14. Hank Williams (country singer/songwriter)
15. Sister Rosetta Tharpe (gospel singer/guitarist)
16. John Lee Hooker (blues singer/guitarist)
17. Lucky Millinder (R&B bandleader)
18. Tiny Bradshaw (R&B bandleader/singer)
19. Nellie Lutcher & Her Rhythm (R&B singer)
20. Ivory Joe Hunter (R&B singer/pianist)
21. Eddie "Cleanhead" Vinson (R&B singer)
22. Mahalia Jackson (gospel singer)
23. Johnnie Ray (pop vocalist)
24. Ink Spots (pop/R&B vocal group)
25. Cecil Gant (R&B pianist/singer)
26. Elmore James (blues singer/guitarist)
27. Dinah Washington (R&B/jazz singer)
28. The Soul Stirrers (gospel group)
29. Jimmy Preston (R&B singer)
30. Bullmoose Jackson (jump blues singer)
31. B.B. King (blues singer/guitarist)
32. Illinois Jacquet (saxophonist)
33. Larry Darnell (R&B singer)
34. Roy Milton (R&B singer/drummer)
35. Johnny Moore (guitarist/bandleader)
36. Charles Brown (pianist/singer)
37. Jimmie Rodgers (country singer/guitarist)
38. The Mills Brothers (black pop vocal group)
39. Lionel Hampton (vibraphone player/bandleader)
40. Robert Johnson (blues singer/guitarist)
41. Paul Williams (saxophonist)
42. Leadbelly (folk-blues singer/songwriter/guitarist)
43. Jimmy Yancey (country singer/pianist)
44. The Charioteers (gospel/R&B vocal group)
45. Gene Krupa (jazz drummer)
46. Jimmy Witherspoon (R&B singer)
47. Clara Ward Singers (gospel group)
48. Willie Dixon (blues songwriter/bassist)
49. "Stick" McGee (blues/R&B singer)
50. Jimmy Liggins (R&B singer/songwriter)
51. Billy Wright (R&B singer/pianist)
52. Hal Singer (saxophonist)
53. Bill Doggett (organist)
54. Ella Mae Morse (jazz/R&B singer)
55. Arthur "Big Boy" Crudup (blues singer)
56. Wild Bill Moore (saxophonist)
57. Lonnie Johnson (blues singer/guitarist)
58. Hank Snow (country singer)
59. Sonny Thompson (R&B bandleader)
60. Louis Armstrong (jazz singer/trumpeter)
61. Pete Johnson (boogie woogie pianist)
62. Billy Eckstine (R&B/pop singer)
63. The Golden Gate Quartet (gospel group)
64. Moon Mullican (hillbilly pianist)
65. The Delta Rhythm Boys (R&B/gospel group)
66. Camillie Howard (R&B singer/pianist)
67. Sonny Boy Williamson (blues singer/harmonica player)
68. Hardrock Gunter (country singer/pianist)
69. Leon "Archibald" Gross (New Orleans pianist)
70. Buddy Johnson (R&B bandleader)
71. The Blackwood Brothers (white gospel group)
72. Albert Ammons (boogie woogie pianist)
73. Bob Wills & The Texas Playboys (country group)
74. Howlin' Wolf (blues singer)
75. Bill Monroe (bluegrass singer)
76. The "King" Cole Trio (pop/jazz group)
77. Pee Wee Crayton (blues guitarist/singer)
78. Mabel Scott (R&B singer)
79. Jack Dupree (singer/pianist)
80. The Five Scamps (R&B group)
81. Woody Guthrie (folk singer/songwriter)
82. Memphis Minnie (blues singer/guitarist)
83. Lil Greenwood (R&B singer)
84. H-Bomb Furgeson (R&B/blues artist)
85. Lightnin' Hopkins (blues singer/guitarist)
86. Roosevelt Sykes (blues pianist)
87. The Pilgrim Travelers (gospel group)
88. The Louvin Brothers (country harmony singers)
89. Fats Waller (jazz pianist)
90. Hadda Brooks (R&B singer)
91. Tiny Grimes (R&B guitarist)
92. Todd Rhodes (R&B bandleader)
93. Big Bill Broonzy (blues artist)
94. Helen Humes (jazz/R&B singer)
95. Meade "Lux" Lewis (boogie woogie pianist)
96. Louis Prima (jazz bandleader)
97. Paul Gayten & Annie Laurie (R&B pianist/singer)
98. Jelly Roll Morton (jazz pianist)
99. Arthur "Guitar Boogie" Smith (country guitarist)
100. Cab Calloway (scat singer)


Edited By: Sampson
Last Updated: 2007-09-12

Criteria: These are the artists that most influenced the birth of rock 'n' roll. They are not ranked by their overall stature in music, but by their direct contributions to rock's formation before rock 'n' roll became a genre unto itself.


---
More DigitalDreamDoor Lists
DigitalDreamDoor lists are created, critiqued, and revised in the DigitalDreamDoor music forum and are meant to be a guide for discovering the greatest music in the category of your liking.
Mobile Device Home Page
digitaldreamdoor.com
Copyright © 2015
DigitalDreamDoor.com