100 Greatest R&B Songs of the 90's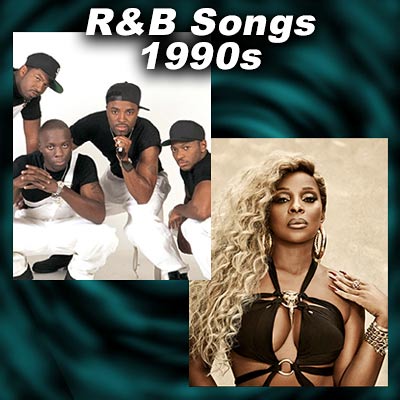 1. No Diggity - BLACKstreet feat. Dr. Dre
2. My Lovin' (You're Never Gonna Get It) - En Vogue
3. The Boy is Mine - Brandy & Monica
4. Real Love - Mary J. Blige
5. Hold On - En Vogue
6. This is How We Do It - Montell Jordan
7. Creep - TLC
8. You Make Me Wanna... - Usher
9. No, No, No Part II - Destiny's Child feat. Wyclef Jean
10. No Scrubs - TLC
11. Poison - Bell Biv Devoe
12. Are You That Somebody? - Aaliyah
13. Gett Off - Prince & The New Power Generation
14. I Love Your Smile - Shanice
15. I Like the Way (The Kissing Game) - Hi-Five
16. Freak Like Me - Adina Howard
17. Remember the Time - Michael Jackson
18. Ain't 2 Proud 2 Beg - TLC
19. Motownphilly - Boyz II Men
20. Pony - Ginuwine
21. Just Kickin' It - X-Scape
22. Candy Rain - Soul for Real
23. Too Close - Next
24. Back and Forth - Aaliyah
25. Don't Walk Away - Jade
26. Fantasy - Mariah Carey
27. Don't Take It Personal (Just One of Dem Days) - Monica
28. Baby - Brandy
29. If I Had No Loot - Tony! Toni! Tone!
30. I'm So Into You - SWV
31. Dream Lover - Mariah Carey
32. Power of Love/Love Power - Luther Vandross
33. Unpretty - TLC
34. It Never Rains (In Southern California) - Tony! Toni! Tone!
35. The First Night - Monica
36. I'm Every Woman - Whitney Houston
37. Free Your Mind - En Vogue
38. U Know What's Up - Donell Jones
39. Tell Me - Groove Theory
40. Hey Mr. D.J. - Zhane
41. I Wanna Be Down - Brandy
42. Live and Learn - Joe Public
43. Touch Me, Tease Me - Case feat. Foxxy Brown
44. Bills, Bills, Bills - Destiny's Child
45. Honey - Mariah Carey
46. I'm Your Baby Tonight - Whitney Houston
47. Let the Beat Hit 'Em - Lisa Lisa & The Cult Jam
48. Giving You the Benefit - Pebbles
49. Girls Nite Out - Tyler Collins
50. She's Playing Hard to Get - Hi-Five
51. Hit Me Off - New Edition
52. Cream - Prince & The New Power Generation
53. Anything (remix) - SWV
54. Sittin' Up in My Room - Brandy
55. Let's Ride - Montell Jordan
56. Only You (remix) - 112 feat. Notorious B.I.G. & Ma$e
57. You're the One - SWV
58. Scream - Michael & Janet Jackson
59. The Best Things in Life Are Free - Janet Jackson & Luther Vandross
60. Return of the Mack - Mark Morrison
61. Thong Song - Sisqo
62. Romantic - Karyn White
63. Don't Wanna Fall in Love - Jane Child
64. Where My Girls At? - 702
65. Baby-Baby-Baby - TLC
66. Feels Good - Tony! Toni! Tone!
67. Do Me! - Bell Biv Devoe
68. I Wanna Love You - Jade
69. Humpin' Around - Bobby Brown
70. So You Like What You See? - Samuelle
71. Exclusivity - Damian Dame
72. This is for the Lover in You - Babyface
73. Groove Thang - Zhane
74. Together Again - Janet Jackson
75. Stay - Eternal
76. All 4 Love - Color Me Badd
77. Do Me Right - Guy
78. If Your Girl Only Knew - Aaliyah
79. My Love is Your Love - Whitney Houston
80. If - Janet Jackson
81. You Remind Me - Mary J. Blige
82. Got 'Til It's Gone - Janet Jackson
83. Emotions - Mariah Carey
84. Lies - En Vogue
85. Get It On...Tonite - Montell Jordan
86. Jumpin' Jumpin' - Destiny's Child
87. How Deep is Your Love? - Dru Hill
88. Can't You See? - Total feat. Notorious B.I.G.
89. Heartbreaker - Mariah Carey
90. Dream on Dreamer - Brand New Heavies
91. Never Gonna Let You Go - Tina Moore
92. Don't Wanna Change the World - Phyllis Hyman
93. Caught Out There - Kelis
94. What About Your Friends? - TLC
95. I Belong to You - Toni Braxton
96. Thieves in the Temple - Prince
97. Why You Gettin' Funky on Me? - Today
98. I Don't Wanna Fight - Tina Turner
99. Running Back to You - Vanessa Williams
100. Don't Be Afraid - Aaron Hall

Top 10 Dance Crossover R&B Hits

1. Gonna Make You Sweat (Everybody Dance Now) - C + C Music Factory
2. Finally - Ce Ce Peniston
3. Show Me Love - Robin S.
4. Everybody Everybody - Black Box
5. Gypsy Woman (She's Homeless) - Crystal Waters
6. The Power - SNAP!
7. 100% (Pure Love) - Crystal Waters
8. Strike it Up - Black Box
9. I Don't Know Anybody Else - Black Box
10. Here We Go - C + C Music Factory

Top 3 Crossover R&B Pop Songs

1. Tom's Diner - DNA feat. Suzanne Palmer
2. Kiss from a Rose - Seal
3. You Gotta Be - Des'ree

Top 5 Crossover Gospel Songs

1. Stomp (remix) - Kirk Franklin & God's Property
2. Shackles (Praise You) - Mary Mary
3. Step By Step - Whitney Houston
4. Revolution - Kirk Franklin
5. Hold On (Change is Comin') - Sounds of Blackness

Top 3 Crossover Reggae/Dancehall Songs

1. You Don't Love Me (No, No, No) - Dawn Penn
2. Mr. Loverman - Shabba Ranks
3. Shy Guy - Diana King

Top 3 R&B Christmas Songs

1. All I Want for Christmas is You - Mariah Carey
2. Sleigh Ride - TLC
3. Joy to the World - Mariah Carey

Edited By:
Jeff B.
Last Updated:
2008-10-22
Newly added names are in
Red
Criteria:
The 100 greatest R&B records of the 1990s - songs are based on impact, influence, and popularity.
---
First published
August 7, 2005
DigitalDreamDoor lists are created, critiqued, and revised in the DigitalDreamDoor music forum and are meant to be a guide for discovering the greatest music in the category of your liking.
Mobile Device Home Page
digitaldreamdoor.com
Copyright © 2015


DigitalDreamDoor.com