100 Greatest Guitarists (All Genres)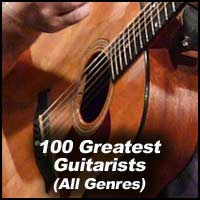 1. Andres Segovia (classical)
2. Django Reinhardt (jazz)
3. Chet Atkins, CGP (country)
4. Jimi Hendrix (rock)
5. Paco de Lucia (flamenco)
6. Agustin Barrios Mangore (classical)
7. Ramon Montoya (flamenco)
8. Julian Bream (classical)
9. Charlie Christian (jazz)
10. B.B. King (blues)
11. T-Bone Walker (blues)
12. Merle Travis (country)
13. Wes Montgomery (jazz)
14. John Williams (classical)
15. Michael Hedges (contemp fingerstyle)
16. Lonnie Johnson (blues)
17. Eddie Lang (jazz)
18. Lenny Breau (jazz)
19. John McLaughlin (fusion)
20. Joe Pass (jazz)
21. Sabicas (flamenco)
22. Blind Blake (ragtime, blues)
23. Robert Johnson (blues)
24. John Fahey (contemp fingerstyle, folk, va.)
25. Davey Graham (british folk, contemp fingerstyle)
26. Doc Watson (folk)
27. Danny Gatton (rockabilly, va.)
28. Adrian Legg (contemp fingerstyle)
29. Narciso Yepes (classical)
30. Laurindo Almeida (brazilian)
31. Les Paul (jazz)
32. Christopher Parkening (classical)
33. Pat Metheny (fusion, jazz)
34. Sol Ho'opi'i*(hawaiian)
35. Jeff Beck (rock)
36. Eddie Van Halen (rock)
37. Ritchie Blackmore (rock)
38. Alexandre Lagoya and Ida Presti (classical)
39. Phil Keaggy (rock, contemp fingerstyle)
40. Allan Holdsworth (fusion)
41. Baden Powell (brazilian)
42. Nino Ricardo (flamenco)
43. George Van Eps (jazz)
44. Jim Hall (jazz)
45. Ed Bickert (jazz)
46. Kenny Burrell (jazz)
47. Franco(soukous, rumba)
48. Carlos Paredes (fado)
49. Freddie Green (jazz)
50. Eric Clapton(rock, blues)
51. Jimmy Page (rock)
52. Albert King (blues)
53. Hank Garland (country, jazz)
54. Chuck Berry (rock)
55. Tommy Emmanuel, CGP (contemp fingerstyle)
56. Leo Kottke (contemp fingerstyle)
57. Tony Iommi (rock)
58. King Bennie Nawahi (hawaiian)
59. Enver Izmailov (fusion)
60. Stanley Jordan (jazz, fusion)
61. Robert Fripp (avant-garde, rock)
62. Oscar Moore (jazz)
63. Ernest Ranglin (ska, jazz)
64. Gabby Pahinui (hawaiian slack key)
65. Vishwa Mohan Bhatt (indian)
66. Johnny Smith (jazz)
67. Roy Buchanan (rock)
68. Bill Frisell (fusion, jazz)
69. Manuel Barrueco (classical)
70. Kazuhito Yamashita (classical)
71. Jimmy Bryant (country, jazz)
72. Duane Allman (rock, blues)
73. James Burton (rockabilly)
74. Freddie King (blues)
75. Elmore James (blues)
76. Earl Hooker (blues)
77. Juanjo Dominguez (tango, va.)
78. Roberto Grela (tango)
79. Mother Maybelle Carter (country)
80. Stevie Ray Vaughan (blues)
81. Steve Vai (rock)
82. Yngwie Malmsteen (rock)
83. Steve Morse (rock)
84. Eric Johnson (rock)
85. Tony Rice (bluegrass)
86. Bola Sete (brazilian, folk fusion)
87. Richard Thompson (british folk)
88. John Renbourn (british folk)
89. Bert Jansch (british folk)
90. Buddy Guy (blues)
91. Steve Cropper (r&b, blues)
92. Robert White/Joe Messina/Eddie Willis (r&b)
93. Scotty Moore (rockabilly)
94. Barney Kessel (jazz)
95. Tal Farlow (jazz)
96. Jimmy Raney (jazz)
97. Howard Roberts(jazz)
98. George Benson (jazz, r&b)
99. Debashish Bhattacharya (indian)
100. Ry Cooder (blues, va.)

100 More Worth Mentioning
101. Roy Nichols (country)
102. Brian May (rock)
103. Carlos Santana (rock)
104. David Gilmour (rock)
105. Jan Akkerman (rock, va.)
106. Larry Carlton (fusion)
107. Larry Coryell (fusion, jazz)
108. Al DiMeola (fusion)
109. Steve Howe (rock, va.)
110. Shawn Lane (fusion)
111. Joe Satriani (rock)
112. Rev. Gary Davis (ragtime, blues)
113. Derek Bailey (avant-garde)
114. Sonny Sharrock (avant-garde)
115. Sonny Greenwich (jazz, avant-garde)
116. James Blood Ulmer (jazz, avant-garde)
117. Pepe Romero (classical)
118. Angel Romero (classical)
119. Carlos Montoya (flamenco)
120. Martin Taylor (jazz)
121. Alirio Diaz (classical)
122. David Russell (classical)
123. Sandy Bull (folk fusion)
124. Koo Nimo (highlife)
125. Paulinho Nogueira (brazilian)
126. Grant Green (jazz, r&b)
127. Diblo Dibala (soukous)
128. Doctor Nico (soukous)
129. Paul Galbraith (classical)
130. Mario Escudero (flamenco)
131. Joe Maphis (country)
132. Luiz Bonfa (brazilian)
133. Pat Martino (jazz)
134. Steve Hackett (rock, classical)
135. John Abercrombie (fusion, jazz)
136. Ralph Towner (fusion, jazz)
137. John Scofield (jazz, fusion)
138. Otis Rush (blues)
139. Melchor de Marchena (flamenco)
140. Brent Mason (country, va.)
141. Oscar Aleman (jazz)
142. Goran Sollscher (classical)
143. Eliot Fisk (classical)
144. Marcel Dadi (contemp fingerstyle)
145. Pierre Bensusan (contemp fingerstyle, va.)
146. Bob Brozman (blues, hawaiian, va. folk)
147. Ledward Ka'apana (hawaiian slack key)
148. Pete Townshend (rock)
149. Robbie Basho (folk fusion, contemp fingerstyle)
150. Manolo Sanlucar (flamenco)
151. Serranito (flamenco)
152. Albert Lee (country, rock)
153. Sharon Isbin (classical)
154. Randy Rhoads (rock)
155. Alex Lifeson (rock)
156. Gary Moore (rock, blues)
157. Mike Bloomfield (blues, rock)
158. Mark Knopfler (rock)
159. Johnny Guitar Watson (blues)
160. Carlos Barbosa-Lima (brazilian, classical)
161. Charlie Byrd (jazz, brazilian)
162. Lonnie Mack (rock, blues)
163. Dick Dale (rock)
164. Link Wray (rock)
165. EK Nyame (highlife)
166. Big Bill Broonzy (blues)
167. Roy Lanham (country)
168. Scotty Anderson (jazz, country)
169. Jimmy Nolen (funk)
170. Clarence White (country)
171. Jerry Reed, CGP (country)
172. Roy Clark (country, va)
173. Grady Martin (country)
174. Albert Collins (blues)
175. George Harrison (rock)
176. Keith Richards (rock)
177. Eldon Shamblin (western swing)
178. Johnny Winter (blues)
179. Jerry Garcia (rock, va.)
180. Henry Kaiser (avant-garde)
181. Eugene Chadbourne (avant-garde)
182. Alex Konadu (highlife)
183. Marty Friedman (rock)
184. Uli Jon Roth (rock)
185. Michael Schenker (rock)
186. Preston Reed (contemp fingerstyle)
187. Herb Ellis (jazz)
188. Mike Stern (jazz)
189. Junior Brown (country)
190. Terje Rypdal (fusion)
191. Blind Lemon Jefferson (blues)
192. Alvin Lee (rock)
193. Peter Green (blues, rock)
194. Eddie Hazel (rock)
195. Vinnie Moore (rock)
196. Fred Frith (avant-garde)
197. Vicente Amigo (flamenco)
198. Martin Simpson (celtic)
199. Tommy Tedesco (va.)
200. Blind Willie Johnson (blues)

Top 10 Composers for Guitar
1. Heitor Villa-Lobos
2. Joaquin Rodrigo
3. Francisco Tarrega
4. Mario Tedesco
5. Fernando Sor
6. Dionysio Aguado
7. Glenn Branca
8. Ferdinando Carulli
9. Mauro Giuliani
10. Rhys Chatham

Top 10 Rhythm Guitarists
1. Freddie Green
2. Lester Flatt
3. Steve Cropper
4. Django Reinhardt
5. Melchor de Marchena
6. Robert Johnson
7. Pete Townshend
8. Jimmy Nolen
9. Maybelle Carter
10. Keith Richards

Listening Recomendations:
Joe Pass - "Virtuoso"
Joe Maphis - "Fire on the Strings"
Django Reinhardt - "The Quintet of the Hot Club of France"
Robert Johnson - "The King of the Delta Blues"
Wes Montgomery - "The Incredible Jazz Guitar of Wes Montgomery"
Julian Bream - "Julian Bream Plays Granados and Albeniz"
Charlie Christian - "The Genius of the Electric Guitar"
Al DiMeola, John McLaughlin, Paco DeLucia - "Friday Night in San Francisco"
Micheal Hedges - "Aerial Boundaries"
Leo Kottke - "6 and 12 String Guitar"
Derek and the Dominoes - "Live at the Fillmore"
John Williams - "Concierto de Aranjuez"
Lenny Breau - "Live at Bourbon St."

Edited By:
George
Last Updated:
2008-02-13
Newly added names are in
Red
Criteria:
These are the 100 greatest guitarists of all genres of music and styles of guitar. They were picked for their importance in the guitar world including innovation, respect from other guitarists, influence on both other players as well as on styles of playing, impact, legendary status, and overall importance on shaping the guitar world. Plus for the playing abilities including technique, creativity, versatility, musicaldepth & expression both in composing & performing, live energy and improv skills, and originality.


NOTE: This is a list of guitarists which 'includes' all musical genres. Not guitarists who 'play' all genres.

---