100 Greatest Jam Bands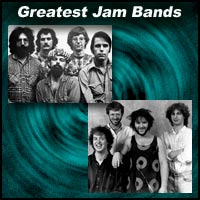 1. The Grateful Dead
2. Phish
3. The Allman Brothers Band
4. Béla Fleck and the Flecktones
5. Dave Matthews Band
6. Widespread Panic
7. moe.
8. The Disco Biscuits
9. Primus
10. The String Cheese Incident
11. Umphrey's Mcgee
12. Blues Traveler/John Popper
13. Les Claypool (& His Fancy Band/Fearless Flying Frog Brigade)
14. The Black Crowes
15. Keller Williams (Incident)
16. Galactic
17. Gov't Mule
18. Yonder Mountain String Band
19. Sound Tribe Sector 9
20. Jerry Garcia Band
21. Oysterhead
22. Little Feat
23. New Riders of the Purple Sage
24. Medeski, Martin & Wood
25. The Derek Trucks Band
26. Bruce Hornsby & The Noisemakers
27. Jack Johnson
28. Ben Harper & The Innocent Criminals
29. G. Love & Special Sauce
30. Tea Leaf Green
31. The Dirty Dozen Brass Band
32. Bob Weir & Ratdog
33. Phil Lesh & Friends
34. Victor Wooten
35. My Morning Jacket
36. Robert Randolph & The Family Band
37. Ween
38. Trey Anastasio (Band/70 Volt Parade/GRAB)
39. Benevento-Russo Duo (& Mike Gordon)
40. Dickey Betts & Great Southern
41. Rusted Root
42. Guster
43. Ben Folds Five
44. Perpetual Groove
45. Steve Kimock Band
46. John Butler Trio
47. The North Mississippi Allstars
48. Colonel Claypool's Bucket Of Bernie Brains
49. Hot Tuna
50. Man or Astroman?
51. The Drive-by Truckers
52. O.A.R.
53. Los Lonely Boys
54. Mike Gordon/Ramble Dove/Leo Kottke
55. Paul Butterfield Blues Band
56. Railroad Earth
57. Acoustic Syndicate
58. The Big Wu
59. Blind Melon
60. Dispatch
61. Animal Liberation Orchestra
62. Bernie Worrell and the WOO Warriors
63. Garaj Mahal
64. Pat McGee Band
65. Matisyahu
66. The New Deal
67. Wishbone Ash
68. Particle
69. Leftover Salmon
70. Aquarium Rescue Unit
71. Lotus
72. New Monsoon
73. Alfred Howard & The K23 Orchestra
74. Hot Buttered Rum String Band
75. John Popper / John Popper Project feat. DJ Logic
76. Fat Freddy's Drop
77. The Bad Plus
78. God Street Wine
79. Quicksilver Messenger Service
80. Antibalas Afrobeat Orchestra
81. Addison Groove Project
82. Nickel Creek
83. The Word
84. The Samples
85. Robert Walter's 20th Congress
86. The Spin Doctors
87. Old Crow Medicine Show
88. RAQ
89. Signal Path
90. The Breakfast
91. MOFRO
92. Flowmotion
93. Donna The Buffalo
94. Moonshine Still
95. Assembly of Dust
96. Beanland
97. Tri Point Paradox
98. Zilla
99. Conspirator
100. Strangefolk

Most Influencial pre-Jam movement artists:
1. The Grateful Dead
2. Cream
3. The Allman Brothers Band
4. Pink Floyd
5. Deep Purple
6. Frank Zappa
7. Santana
8. Jimi Hendrix
9. Led Zeppelin
10. The Yardbirds

Edited By:
americanhippos
Last Updated:
2007-04-25
Newly added names are in
Red
Criteria:
Based on creativity, talent, orignality, Influence, and popularity as a "Jam" band.
Other characteristics:
- Often play many cover songs during live performances
- Utilize elaborate light shows
- Are share-friendly; have live performances on the Internet Archive (www.archive.org)
- Perform at music festivals- Bonnaroo, Summer Camp, and Wakarusa used as examples
Defifition:
A jam artist is an artist or band (usually below the mainstream) who spends large portions of their live performances through unplanned improvising and changing songs through a transition, such as jazz and bluegrass musicans. These bands generally experiment with jazz, world music, progressive bluegrass, and psychadelic rock.


---