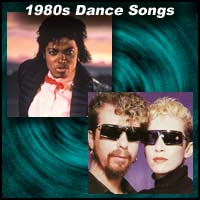 100 Greatest Dance Songs 80s
1. Billie Jean - Michael Jackson
2. Into the Groove - Madonna
3. Don't You Want Me? - Human League
4. Sweet Dreams (Are Made of This) - Eurythmics
5. Tainted Love - Soft Cell
6. Super Freak Part I - Rick James
7. Beat It - Michael Jackson
8. Celebration - Kool and The Gang
9. 1999 - Prince
10. It Takes Two - Rob Base and DJ EZ Rock
11. Push It - Salt-N-Pepa
12. All Night Long (All Night) - Lionel Richie
13. Another One Bites the Dust - Queen
14. Flashdance...What a Feeling - Irene Cara
15. Holiday - Madonna
16. Let the Music Play - Shannon
17. Wild Thing - Tone Loc
18. Pump Up the Jam - Technotronic
19. Thriller - Michael Jackson
20. Blue Monday - New Order
21. Upside Down (Inside Out) - Diana Ross
22. It's Raining Men - The Weather Girls
23. Take Your Time (Do It Right) - S.O.S. Band
24. I'm So Excited - The Pointer Sisters
25. I Wanna Dance With Somebody (Who Loves Me) - Whitney Houston
26. The Humpty Dance - Digital Underground
27. Love Shack - B-52s
28. Wanna Be Startin' Somethin' - Michael Jackson
29. Let's Groove - Earth, Wind, and Fire
30. Jump (For My Love) - The Pointer Sisters
31. I Feel For You - Chaka Khan
32. Rapture - Blondie
33. Walk Like An Egyptian - The Bangles
34. Girls Just Want To Have Fun- Cyndi Lauper
35. Our Lips Are Sealed - Go-Gos
36. Situation - Yazoo
37. The Safety Dance - Men Without Hats
38. I Can't Wait - Nu Shooz
39. Electric Boogie - Marcia Griffiths
40. Give It To Me Baby - Rick James
41. In My House - Mary Jane Girls
42. Forget Me Nots - Patrice Rushen
43. Genius Of Love - Tom Tom Club
44. You Dropped A Bomb On Me - Gap Band
45. Rhythm of the Night - DeBarge
46. More Bounce to the Ounce Part I - Zapp
47. When Doves Cry - Prince
48. Let's Dance - David Bowie
49. I'm Coming Out - Diana Ross
50. Heartbeat - Taana Gardner
51. Let It Whip - Dazz Band
52. Kiss - Prince & The New Power Generation
53. Let's Hear It For the Boy - Deniece Williams
54. You Spin Me Around (Like a Record) - Dead or Alive
55. Whip It! - Devo
56. Conga - Miami Sound Machine
57. Pump Up the Volume - M/A/R/R/S
58. Ride On Time - Black Box
59. Like a Virgin - Madonna
60. Me, Myself, and I - De La Soul
61. My Prerogative - Bobby Brown
62. Footloose - Kenny Loggins
63. Fame - Irene Cara
64. Relax - Frankie Goes To Hollywood
65. Goody Two Shoes - Adam Ant
66. Rockit - Herbie Hancock
67. Word Up! - Cameo
68. You're the One For Me - D-Train
69. Planet Rock - Afrika Bambaataa & The Soul Sonic Force
70. Sunglasses At Night - Corey Hart
71. Oh Sheila - Ready For the World
72. Stomp! - Brothers Johnson
73. Venus - Bananarama
74. Wake Me Up Before You Go-Go - Wham!
75. Maniac - Michael Sembello
76. Gloria - Laura Branigan
77. Atomic Dog - George Clinton
78. Burn Rubber (Why You Wanna Hurt Me?) - Gap Band
79. She Works Hard For the Money - Donna Summer
80. Everybody Have Fun Tonight - Wang Chung
81. Hungry Like the Wolf - Duran Duran
82. Somebody's Watching Me - Rockwell
83. Electric Avenue - Eddy Grant
84. We Got the Beat - Go-Gos
85. Material Girl - Madonna
86. The Way You Make Me Feel - Michael Jackson
87. She Drives Me Crazy - Fine Young Cannibals
88. The Politics of Dancing - Re-Flex
89. The Glamorous Life - Sheila E.
90. Freeway of Love - Aretha Franklin
91. She Blinded Me with Science - Thomas Dolby
92. Just Can't Get Enough - Depeche Mode
93. Walking On Sunshine - Katrina & The Waves
94. Who Can It Be Now? - Men At Work
95. Nasty - Janet Jackson
96. White Horse - Laid Back
97. Funky Cold Medina - Tone Loc
98. Bust A Move - Young MC
99. When I Think of You - Janet Jackson
100. Mickey - Toni Basil

101. Always Something There To Remind Me - Naked Eyes
102. Too Shy - Kajagoogoo
103. Our House - Madness
104. I Wonder If I Take You Home - Lisa Lisa & Cult Jam
105. I Can Dream About You - Dan Hartman
106. Never Gonna Give You Up - Rick Astley
107. Two of Hearts - Stacey Q
108. Let's Go Crazy - Prince & The Revolution
109. Fresh - Kool & The Gang
110. Jungle Love - The Time
111. Living In America - James Brown
112. Let's Go All the Way - Sly Fox
113. Nasty Girl - Vanity 6
114. Rumors - Timex Social Club
115. No Parking (On the Dance Floor) - Midnight Star
116. Axel F - Harold Faltermeyer
117. New Attitude - Patti LaBelle
118. Last Night a DJ Saved My Life - Indeep
119. Double Dutch Bus - Frankie Smith
120. A Love Bizarre - Sheila E.
121. Get Down On It - Kool & The Gang
122. How Will I Know? - Whitney Houston
123. I Want Candy - Bow Wow Wow
124. So Many Men, So Little Time - Miquel Brown
125. High Energy - Evelyn Thomas
126. 19 - Paul Hardcastle
127. Part-Time Lover - Stevie Wonder
128. Bad - Michael Jackson
129. Express Yourself - Madonna
130. Hot Hot Hot - Buster Poindexter
131. P.Y.T. (Pretty Young Thing) - Michael Jackson
132. Break My Stride - Matthew Wilder
133. Dance Hall Days - Wang Chung
134. I Want a New Drug - Huey Lewis & The News
135. Ghostbusters - Ray Parker Jr.
136. (Keep Feeling) Fascination - Human League
137. Caribbean Queen (No More Love On the Run) - Billy Ocean
138. (Let's Get) Physical - Olivia Newton John
139. Don't Leave Me This Way - Communards
140. Come Go With Me - Expose
141. Give Me the Night - George Benson
142. Love Sensation - Loleatta Holloway
143. The Loco-Motion - Kylie Minogue
144. What's On Your Mind? (Pure Energy) - Information Society
145. I'm In Love - Evelyn "Champagne" King
146. People Hold On - Coldcut feat. Lisa Stansfield
147. Can't Fake the Feeling - Geraldine Hunt
148. Theme from S-Express - S-Express
149. Beat Dis - Bomb the Bass
150. Swing the Mood - Jive Bunny & The Mastermixers

TOP 10 DANCEABLE PARTY ROCKER JAMS

1. Mony Mony (live) - Billy Idol
2. Walk This Way - Run-D.M.C. & Aerosmith
3. (You Gotta) Fight For Your Right (To Party) - Beastie Boys
4. I Love Rock N Roll - Joan Jett & The Blackhearts
5. Addicted To Love - Robert Palmer
6. Call Me - Blondie
7. Jessie's Girl - Rick Springfield
8. Rock This Town - Stray Cats
9. Dancing With Myself - Billy Idol
10. Dancing In the Dark - Bruce Springsteen
• Bubbling Under:
Bang the Drum All Day - Todd Rundgren

TOP 10 NOT QUITE-SO JAMMING

1. Back To Life - Soul II Soul
2. Straight Up - Paula Abdul
3. Keep On Movin' - Soul II Soul
4. Cruel Summer - Bananarama
5. I Can't Go For That (No Can Do) - Hall & Oates
6. I'll Tumble 4 Ya - Culture Club
7. Lean On Me - Club Nouveau
8. West End Girls - Pet Shop Boys
9. All Around the World - Lisa Stansfield
10. Smalltown Boy - Bronski Beat
• Bubbling Under:
Don't Worry, Be Happy - Bobby McFerrin

TOP 3 REGGAE/WORLD MUSIC JAMS

1. Pass the Dutchie - Musical Youth
2. Ye Ke Ye Ke - Mory Kante
3. Lambada - Kaoma

---
---
Add Your Comment About This List.



Edited By: Jeff B.
Last Updated: 08-23-2009

Criteria: The songs here are based on popularity and impact with an emphasis on a party atmosphere. Songs that were released in 1979 ("Funkytown," "Don't Stop 'Til You Get Enough," "On the Radio," "Video Killed the Radio Star," "What I Like About You," "Rock With You," "Cars," "Pop Muzik," "And the Beat Goes On," "Ladies Night," "Computer Games," "Vertigo/Relight My Fire," "Rock Lobster," "Working My Way Back To You/Forgive Me Girl," "Please Don't Go," "The Second Time Around," "Off the Wall," "Bounce, Rock, Skate, Roll") do not count here. Also, the song must have been worked significantly to dance clubs to figure a spot here. Since the '80s was a very danceable decade with diverse dance-oriented styles, special sidebar lists are given below.

NOTE: Dance music is not always your typical 4/4 rhythm. Dance music is found in all forms of popular music, be it through swing, ragtime, jump blues, and rock. The first real dance music in American history was ragtime, and in the 1980s, dance music peaked pop-wise. These songs represent the greatest electronic dance and jam (dance-based pop-rock) songs of the 1980s.