100 Greatest Dance Songs 90s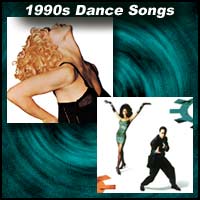 1. Vogue - Madonna
2. Gonna Make You Sweat (Everybody Dance Now) - C&C Music Factory feat. F. Williams
3. Groove Is In The Heart - Deee-Lite
4. The Power - SNAP!
5. Whoomp! There It Is - Tag Team
6. Macarena (Bayside Boys remix) - Los Del Rio
7. U Can't Touch This - MC Hammer
8. Unbelievable - EMF
9. Baby Got Back - Sir Mix-A-Lot
10. Good Vibrations - Marky Mark and The Funky Bunch feat. Loleatta Holloway
11. Finally - Ce Ce Peniston
12. Show Me Love- Robin S.
13. Get Ready For This - 2 Unlimited
14. Here Comes the Hotstepper (Heartical mix) - Ini Kamoze
15. Gettin' Jiggy Wit It - Will Smith
16. C'mon N Ride It (The Train) - Quad City DJs
17. Gypsy Woman (She's Homeless) - Crystal Waters
18. Believe (Life After Love) - Cher
19. Everybody Everybody - Black Box feat. Martha Wash
20. I Like To Move It - Real 2 Real feat. The Mad Stuntman
21. Touch Me (All Night Long) - Cathy Dennis
22. Rhythm is a Dancer - SNAP!
23. Be My Lover - La Bouche
24. Rhythm of the Night - Corona
25. Children (Dream version) - Robert Miles
26. Summertime - DJ Jazzy Jeff & The Fresh Prince
27. What Is Love? - Haddaway
28. Mr. Vain - Culture Beat
29. All That She Wants - Ace of Base
30. This Is Your Night - Amber
31. I'm Too Sexy - Right Said Fred
32. Another Night - MC Sar and The Real McCoy
33. 100% (Pure Love) - Crystal Waters
34. I've Been Thinking About You - Londonbeat
35. Total Eclipse of the Heart - Nikki French
36. Everybody's Free (To Feel Good) - Rozalla
37. Tom's Diner - D.N.A. feat. Suzanne Vega
38. Strike It Up - Black Box
39. Tootsee Roll - 69 Boyz
40. Run Away - MC Sar and The Real McCoy
41. Jump Around - House of Pain
42. Sadness Part I - Enigma
43. Poison - Bell Biv Devoe
44. Rump Shaker - Wreckx-N-Effect
45. This Is How We Do It - Montell Jordan
46. Da' Dip - Freak Nasty
47. Hip Hop Hooray - Naughty By Nature
48. O.P.P. - Naughty By Nature
49. Achy Breaky Heart - Billy Ray Cyrus
50. Jump - Kris Kross
51. Sweet Dreams - La Bouche
52. Go - Moby
53. Black Or White - Michael Jackson
54. Dreamer - Livin' Joy
55. Your Loving Arms - Billie Ray Martin
56. Where Do You Go? - No Mercy
57. Beautiful Life - Ace of Base
58. Moving on Up - M People
59. Music Sounds Better with You - Stardust
60. Insomnia - Faithless
61. U Don't Know Me - Armand Van Helden feat. Duane Harden
62. Around the World - Daft Punk
63. Ooh Aah...Just a Little Bit - Gina G.
64. Professional Widow (Armand's Star Trunk Funkin' mix) - Tori Amos
65. Come Baby Come - K7 and The Swing Kids
66. Don't Stop Movin' - Livin' Joy
67. We Like To Party - The Vengaboys
68. Free (Mood II Swing mix) - Ultra Nate
69. Set U Free - Planet Soul feat. Nadine Renee
70. The Bomb (These Sounds Fall into My Mind) - Bucketheads
71. Cantaloop (Flip Fantasia) - Us3
72. If You Could Read My Mind - Stars on 54
73. Push the Feeling On - The Nightcrawlers
74. In De Ghetto - Bad Yard Club feat. Crystal Waters
75. Magic Carpet Ride - Mighty Dub Katz
76. Boom Boom Boom - The Outhere Brothers
77. 3 AM Eternal - The KLF
78. Do You Miss Me? - Jocelyn Enriquez
79. More and More - Captain Hollywood
80. Tonight is the Night - Le Click
81. Born Slippy - Underworld
82. Jellyhead (Motiv8 mix) - Crush
83. Dazzey Duks - Duice
84. Spin Spin Sugar (Armand van Helden mix) - Sneaker Pimps
85. Sugar Is Sweeter - CJ Bolland
86. No Diggity - BLACKstreet feat. Dr. Dre
87. Ray of Light - Madonna
88. It's Like That '98 - Jason Nevins vs Run-D.M.C.
89. Mo Money, Mo Problems - Notorious BIG feat. Puff Daddy & Ma$e
90. Whatta Man - Salt-n-Pepa & En Vogue
91. Smooth - Carlos Santana with Rob Thomas
92. Temptation - Corina
93. Together Forever - Lisette Melendez
94. Cotton Eye Joe - Rednex
95. Better Off Alone - Alice DeeJay
96. Blue (Da Ba Dee) - Eiffel 65
97. Don't Call Me Baby - Madison Avenue
98. It Feels So Good - Sonique
99. Sexual (Li Da Di) - Amber
100. Livin' La Vida Loca - Ricky Martin

101. What's Up - DJ Miko
102. Nobody's Supposed to Be Here (Hex Hector mix) - Deborah Cox
103. Twilight Zone - 2 Unlimited
104. Kernkraft 400 - Zombie Nation
105. Give it Up - The Goodmen
106. The Rockafeller Skank - Fatboy Slim
107. Fantastic Voyage - Coolio
108. Please Don't Go - K.W.S.
109. I'm Every Woman - Whitney Houston
110. Shoop - Salt-n-Pepa
111. Mambo No. 5 (A Little Bit of...) - Lou Bega
112. Motownphilly - Boyz II Men
113. No Limit - 2 Unlimited
114. Tribal Dance - 2 Unlimited
115. The Funk Phenomenon - Armand Van Helden
116. 1, 2, 3, 4 (Sumpin' New) - Coolio
117. I Love You Always Forever - Donna Lewis
118. Boot Scootin' Boogie - Brooks & Dunn
119. Kitty Kitty - 69 Boyz
120. I Like It Like That - The Blackout Allstars feat. Tito Nieves
121. Killer - Adamski
122. Justified and Ancient - The KLF feat. Tammy Wynette
123. Short Dick Man - 20 Fingers & Gillette
124. Now That We Found Love - Heavy D & The Boyz
125. Mortal Kombat - The Immortals
126. Fat Boy - Max-a-Million
127. Fired Up - Funky Green Dogs
128. It's Not Right But It's Okay (Thunderpuss mix) - Whitney Houston
129. It's My Life - Dr. Alban
130. One More Try - Kristine W
131. Ready to Go (U.S. mix) - Republica
132. Scatman (Ski Ba Bop Ba Dop Bop) - Scatman John
133. Lovefool - Cardigans
134. Hey Mr. DJ - Zhane
135. Return of the Mack - Mark Morrison
136. How Bizarre - OMC
137. Something Good - Utah Saints
138. America: What Time is Love? - The KLF
139. Suavemente - Elvis Crespo
140. Call Me - Le Click feat. Kayo
141. Red Alert - Basement Jaxx
142. Turn the Beat Around - Gloria Estefan
143. I See You Baby - Groove Armada feat. Gram'ma Funk
144. Time After Time - INOJ
145. Firestarter - The Prodigy
146. Bodyrock - Moby
147. Waiting for Tonight - Jennifer Lopez
148. Supermodel (You Better Work) - RuPaul
149. For An Angel (Angel in Heaven) - Paul Van Dyk
150. Emotions - Mariah Carey




All I Want For Christmas Is You - Mariah Carey

---
Add Your Comment About This List.



Edited By: Jeff B.
Last Updated: 2010-10-08

Criteria: The songs here are based on popularity and impact. Songs that were released in 1989 ("Pump Up the Jam," "Move This," "Get Up! Before the Night is Over," "Love Shack," "The Humpty Dance," "Love Will Never Do (Without You)," "All Around the World," "Express Yourself," and "Ride on Time") do not count here.


NOTE: Dance music is not always your typical 4/4 rhythm. Dance music is found in all forms of popular music, be it through swing, ragtime, jump blues, and rock. The first real dance music in American history was ragtime, and in the 1980s, dance music peaked pop-wise. These songs represent the greatest electronic dance and jam (dance-based pop-rock) songs of the 1990s.


---