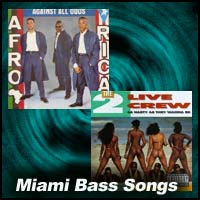 100 Greatest Miami Bass Songs
1. Throw the D. - 2 Live Crew / Throw the P. - Anquette
2. Bass Rock Express - MC A.D.E.
3. Supersonic - J.J. Fad
4. The Cars with the Boom - L'Trimm
5. Give It All You Got (Doggy Style) - Afro Rican
6. Just Give the DJ a Break - Dynamix II
7. Drop the Bass - DJ Magic Mike and MC Toney B.
8. Me So Horny - 2 Live Crew
9. Baby Got Back - Sir Mix-A-Lot
10. Whoomp! There It Is - Tag Team/Whoot! There It Is-95 South
11. Boot the Booty - MC Cool Rock & Chaszey Chess
12. Bass Computer - Techmaster P.E.B.
13. We Want Some Pussy - 2 Live Crew
14. Sally (That Girl) - Gucci Crew II
15. Shake It - MC Shy D
16. Miami El Negro - DJ Laz and Danny D.
17. Welcome to the Planet of Bass - Maggotron
18. Creep Dog - MC Cool Rock & Chaszey Chess
19. Now Dance - Byron Davis & The Fresh Krew
20. Let's Get This Party Started - DJ KJ & MC Kooley C.
21. Ghetto Bass - 2 Live Crew
22. Get It Girl - 2 Live Crew
23. Gotta Be Tough - MC Shy D
24. Revelation - 2 Live Crew
25. What I Like - 2 Live Crew
26. Boom! I Got Your Boyfriend - Danny D. & DJ Wiz / Boom! I Got Your Girlfriend - MC Luscious
27. Jealous Fellas - Dimples T. / Jealous Girls - JDC
28. I Wanna Rock - Luke
29. Tootsee Roll - 69 Boyz
30. Ghetto Jump - Krush
31. Stomp N Grind - Half Pint
32. Commin' In Fresh - Double Duce
33. DJ Magic Mike Cuts the Record - DJ Magic Mike
34. Shake Whatcha Mama Gave Ya - Poison Clan
35. C'mon N Ride It (The Train) - Quad City DJ's
36. Dazzey Dukes - Duice
37. Da Dip - Freak Nasty
38. Scrub Da Ground - Splack Pack
39. Dunkie Butt (Please, Please, Please) - 12 Gauge
40. Mix It Up - DJ Uncle Al
41. Shake That Ass Bitch - Splack Pack
42. "B" Girls - Young & Restless
43. Ignition - Dynamix II
44. The Cabbage Patch - The Gucci Crew II
45. Move Somethin' - 2 Live Crew
46. Return of the Bass That Ate Miami - Maggotron
47. 122 BPM - Jive Rhythm Trax
48. Techno Bass - Dynamix II
49. Square Dance Rap - Sir Mix-A-Lot
50. Love You Down - INOJ
51. Swing My Way - KP & Envyi / Shorty Swings Both Ways - 3-Way Playaz
52. Time After Time - INOJ
53. Shake Shake - Jonny Z
54. Shake a Lil' Somethin' - 2 Live Crew
55. Nasty Dancer (remix) - Kilo
56. Kitty Kitty - 69 Boyz
57. 2 Much Booty (In Da Pants) - Soundmaster T.
58. Lose My Money (Honey) - Prince Raheim and Crazy Legs
59. Hold Up, Wait a Minute - DJ Smurf
60. Ooh Lawd (Party People) - DJ Smurf and PMHI
61. Do Your Duty - Beat Master Clay D. & The Get Funky Crew
62. Shake the Joint - Breezy Beat MC
63. Worse 'Em - Triple M Bass
64. The Beat Is Fresh - Prime Choice
65. Posse on Broadway - Sir Mix-A-Lot
66. My Boo - Ghost Town DJs
67. Wiggle Wiggle - Disco Rick
68. Party - Dis N Dat
69. Rodeo - 95 South
70. Red Alert - DJ Laz
71. Shake It, Do the 61st - Anquette
72. Let it Go - Afro-Rican
73. Chicken Head - MC Zeus
74. Smurf Rock - Gigolo Tony
75. That's Right - DJ Taz feat. Raheem the Dream
76. I Will Always Be There for You - Anquette
77. Pop That Thang - DJ Smurf feat. Kizzy Rock
78. Scarred - Luke Campbell
79. My Baby's Daddy - B-Rock & the Bizz / My Baby Mama - Anquette feat. The Southsyde B.O.I.Z.
80. Raise the Roof - Luke feat. No Good But So Good Party
81. Do the Damn Thing - 2 Live Crew
82. Lap Danz - Top Secret
83. Show Me Love - Kilo Ali
84. Whatz Up Whatz Up - Playa Poncho and L.A. Sno
85. Bad Bass Music - Bass Cube
86. Butta (Miami Bass mix) - Pamp & Da Knox
87. Girls (Southside mix) - DJ Smurf feat. DJ Taz, DJ Kizzy Rock, and June Dog
88. All of Puerto Rico - Afro-Rican
89. Shake (Miami Bass mix) - Pamp & Da Knox
90. Ride Out - DJ Trans
91. Pump That Bass - Original Concept
92. Woof Woof - 69 Boyz
93. Bass Is What We Want - MCB
94. Esta Locha (Part Bass mix) - To Kool Chris
95. Latin Swing - Jonny Z & DJ Laz
96. Freak It - Lathun feat. Da Brat
97. When Will I See You Smile Again? - Ricky Bell
98. As We Lay - Dana Harris
99. Everlasting Bass - Rodney O.
100. Get it Boy - Fresh Celeste & M4sers

TOP 5 FREESTYLE BASS SONGS

1. Security (Midnight remix) - The Beat Club
2. Make It Mellow - Missy Mist
3. I Need You - B.V.S.M.P. feat. Stevie B.
4. Summertime Summertime - Corina
5. Weekendz (Freekendz) - Cisco

INFLUENTIAL ELECTRO TRACKS ON MIAMI BASS

1. Planet Rock - Afrika Bambaataa & The Soul Sonic Force
2. It's Yours - T La Rock & Jazzy Jay
3. Al-Naafiysh (The Soul) - Hashim
4. Egypt, Egypt - Egyptian Lover
5. Jam On It - Newcleus
Bubbling under:
Clear - Cybotron feat. Juan Atkins
Numbers - Kraftwerk

TOP 5 BOOTY HOUSE/GHETTOTECH SONGS

1. Work It! - DJ Funk
2. Playa Haters in Dis House (Point 'Em Out remix)
- DJ Godfather feat. Players Only
3. Freaks - DJ Deeon
4. Ass N Titties - DJ Assault
5. Some Whores (In This House) - 2 n Rhythm

CRUCIAL NEO MIAMI BASS

Cameltoe - Fannypack
Artificial Intelligence - Industrial Bass Machine
Planetary Deterioration - Ozone Layer
FlooR.I.D.A. (Dynamix II remix) - Rabbit In the Moon

NOTEWORTHY BOOTY JAMS (NOT MIAMI BASS)

The Humpty Dance - Digital Underground
Da Butt - E.U.
Back That Ass Up - Juvenile feat. Mannie Fresh and Lil' Wayne
Big Ole Butt - L. L. Cool J
Get Low - Lil' Jon & The Eastside Boyz
Shake Ya Ass - Mystikal
Push It - Salt N Pepa
Funky Cold Medina - Tone Loc
Wild Thing - Tone Loc
Rump Shaker - Wreckx N Effectx
Salt Shaker - Ying Yang Twins

INFUENTIAL ARTISTS ON MIAMI BASS

Afrika Bambaataa
Cybotron
Egyptian Lover
Kraftwerk
Mantronix
"Pretty Tony" Butler

---
Add Your Comment About This List.


Edited By:
Jeff B.
Last Updated:
2007-08-18
Newly added names are in
Red
Definition:
Miami Bass (bass, booty bass, car audio bass) is a form of Hip Hop dance with its core roots in Afrika Bambaataa & The Soul Sonic Force's 1982 seminal track "Planet Rock". The style is characterized by raps or instrumentals, a heavy syncopated bass, and features party, message, or explicit lyrical content. Important pioneers include Amos Larkin (the father of Miami Bass), 2 Live Crew, and Maggotron, to name a few. The genre also kick started the southern rap phenomenon. Miami Bass peaked in the late '80s and early '90s with acts such as J.J. Fad, 2 Live Crew, DJ Magic Mike, and Sir Mix-A-Lot. Its last great period was in the late '90s before it virtually went underground ever since.
Criteria:
Miami Bass songs are based on impact, influence, and popularity.
---