100 Greatest British Invasion Artists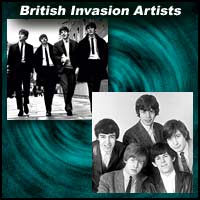 1. The Beatles
2. The Rolling Stones
3. The Kinks
4. The Who
5. The Yardbirds
6. The Animals
7. The Dave Clark Five
8. The Hollies
9. Dusty Springfield
10. Herman's Hermits
11. Gerry & the Pacemakers
12. The Searchers
13. Peter & Gordon
14. Manfred Mann
15. Petula Clark
16. The Troggs
17. Donovan
18. The Zombies
19. John Mayall & the Bluesbreakers
20. Billy J. Kramer & the Dakotas
21. Chad & Jeremy
22. Wayne Fontana & the Mindbenders
23. Tom Jones
24. The Moody Blues
25. Small Faces
26. Freddie & the Dreamers
27. Cliff Richard
28. Cilla Black
29. The Shadows
30. Marianne Faithfull
31. Brian Poole & the Tremeloes
32. The Pretty Things
33. Them
34. The Fortunes
35. Alexis Korner's Blues Incorporated
36. Billy Fury
37. The Spencer Davis Group
38. Sandie Shaw
39. Shirley Bassey
40. Georgie Fame & the Blue Flames
41. The Swinging Blue Jeans
42. Adam Faith
43. The Honeycombs
44. Dave Berry & the Cruisers
45. Dave Dee, Dozy, Beaky, Mick & Tich
46. The Merseybeats
47. The Graham Bond Organization
48. Crispian St. Peters
49. The Nashville Teens
50. The Barron Knights
51. The Fourmost
52. The New Vaudeville Band
53. Unit 4+2
54. The Rockin' Berries
55. Chris Andrews
56. The Silkie
57. David & Jonathan
58. Lulu
59. The Ivy League
60. The Four Pennies
61. Heinz
62. Ian Whitcomb
63. Jonathan King
64. Chris Farlowe
65. The Tornados
66. Mike Berry & the Outlaws
67. The Hullaballoos
68. The Applejacks
69. The Mojos
70. Johnny Kidd & the Pirates
71. The Sorrows
72. Steampacket
73. Jet Harris & Tony Meehan
74. The Alan Price Set
75. The Migil Five
76. Twinkle
77. Paul & Barry Ryan
78. John's Children
79. Jackie Trent
80. Screaming Lord Sutch & the Savages
81. The Overlanders
82. Cliff Bennett & the Rebel Rousers
83. Hedgehoppers Anonymous
84. The Merseys
85. Pinkerton's Assorted Colours
86. Billie Davis
87. The Big Three
88. Helen Shapiro
89. The Joystrings
90. Bern Elliott & the Fenmen
91. Geno Washington & the Ram Jam Band
92. The Creation/The Mark Four
93. Cyril Davies All-Stars
94. St. Louis Union
95. The Naturals
96. Zoot Money's Big Roll Band
97. Twice As Much
98. The Cryin' Shames
99. The Poets
100. The Vernons Girls

50 More Worth Mentioning
101. Tommy Quickly/The Remo Four
102. The Cherokees
103. The Paramounts
104. The Dennisons
105. The Mike Cotton Sound
106. Tony Jackson & the Vibrations
107. The Beat Merchants
108. The Birds
109. The Action
110. The Zephyrs
111. The Escorts
112. The Undertakers
113. The In Crowd
114. The Artwoods
115. The Roulettes
116. Mike Sheridan & the Nightriders
117. Rory Storm & the Hurricanes
118. Long John Baldry
119. Les Fleur de Lys
120. The Chants
121. The Rockin' Vickers
122. The Black Knights
123. Just Four Men/Wimple Winch
124. David John & the Mood
125. The Riot Squad
126. Lee Curtis & the All Stars
127. Faron's Flamingos
128. The Syndicats
129. The Eyes
130. Episode Six
131. The Downliners Sect
132. Sounds Incorporated
133. Tony Rivers & the Castaways
134. Beryl Marsden
135. King Size Taylor & the Dominoes
136. Ian & the Zodiacs
137. The Country Gentlemen
138. The Koobas
139. The Pete Best Four
140. Dean Ford & the Gaylords
141. The Wheels
142. Steve Aldo
143. The Rats
144. A Band of Angels
145. The Gamblers
146. The Mark Leeman Five
147. Peter Jay & the Jaywalkers
148. Freddie Starr & the Midnighters
149. The Cheynes
150. Jimmy Powell & the Five Dimensions




Howie Casey & the Seniors
Simon Dupree & the Big Sound
Gary Farr & the T-Bones
Chick Graham & the Coasters
Herbie's People
High Society
Casey Jones & the Engineers
The News
The Pack
Paddy, Klaus & Gibson
The Bobby Patrick Big Six
Keith Powell & the Valets
Earl Preston
Martin Raynor & the Secrets
The Roadrunners
Earl Royce & the Olympics
Shotgun Express
The Snobs
The Spectres
The Toggery Five
The Whirlwinds

Second Wave
These are some artists that missed the first wave of the British Invasion. They enjoyed only very little or even no commercial success in the United States before 1967, but became very popular in the years that followed. They are ranked only for their popularity in the United States from 1967 to 1970.


1. Led Zeppelin
2. Cream
3. The Jimi Hendrix Experience
4. The Who
5. Joe Cocker
6. Traffic
7. Deep Purple
8. Ten Years After
9. The Jeff Beck Group
10. Free
11. Procol Harum
12. Black Sabbath
13. King Crimson
14. Pink Floyd
15. Fleetwood Mac

Pre-'British Invasion':
These are the artists that helped shape the British pop and rock scene before The Beatles came along. They are ranked according to their influence on the British Invasion, their musical impact and their chart success in the UK and (where applicable) the US from 1954 to 1962.


1. Lonnie Donegan (skiffle)
2. Cliff Richard (rock & roll, pop)
3. Tommy Steele (rock & roll)
4. The Shadows (instrumental rock)
5. Chris Barber (skiffle, trad jazz)
6. Alexis Korner & Cyril Davies (British blues)
7. Billy Fury (rock & roll)
8. Adam Faith (pop)
9. Johnny Kidd & the Pirates (rock & roll)
10. Ken Colyer (skiffle, trad jazz)
11. Marty Wilde (rock & roll, pop)
12. Chas McDevitt (skiffle)
13. The Tornados (instrumental rock)
14. Joe Brown & the Bruvvers (rock & roll)
15. Petula Clark (pop)
16. Johnny Duncan & the Blue Grass Boys (skiffle)
17. Vince Taylor & the Playboys (rock & roll)
18. Wee Willie Harris (rock & roll)
19. Craig Douglas (pop)
20. The Vipers Skiffle Group (skiffle)
21. Helen Shapiro (pop)
22. Tony Sheridan (rock & roll)
23. John Leyton (pop)
24. Shane Fenton & the Fentones (pop)
25. Terry Dene (rock & roll)
26. Tommy Bruce & the Bruisers (rock & roll)
27. Mark Wynter (pop)
28. Lance Fortune (pop)
29. Kingsize Taylor & the Dominoes (rock & roll)
30. The Brook Brothers (pop)

Edited By:
pauldrach
Last Updated:
2011-09-09
Newly added names are in
Red
Background:
The term "British Invasion" describes a musical period in the mid-1960s, during which British rock artists dominated the American music charts. The British Invasion began in late 1963, and ended with the beginning of 1967, when psychedelic rock became mainstream.
Criteria:
These British artists are rated only for their actions and recordings from 1963 to 1966. Chart success in the US and UK, lasting popularity of their recorded work, influence of their recordings and live shows, and musical impact were taken into consideration. Although the term British Invasion is only used for British bands and musicians that were present in the American charts, this list also includes artists that didn't enjoy any success in the U.S. but were active at the time.
---