100 Greatest International Rock Artists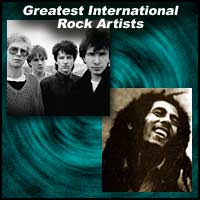 1. U2 (Dublin, Ireland)
2. Bob Marley/The Wailers (Nine Mile, Jamaica)
3. Neil Young (Toronto, Canada)
4. AC/DC (Sydney, Australia)
5. Joni Mitchell (Fort Macleod, Canada)
6. Bee Gees (Brisbane, Australia)
7. The Band (Toronto, Canada)
8. Carlos Santana (Autlán de Navarro, Mexico; incl. Santana)
9. Kraftwerk (Düsseldorf, Germany)
10. Rush (Toronto, Canada)
11. Jackson Browne (Heidelberg, Germany)
12. Leonard Cohen (Montreal, Canada)
13. Alanis Morissette (Ottawa, Canada)
14. ABBA (Stockholm, Sweden)
15. Björk (Reykjavik, Iceland)
16. Daft Punk (Paris, France)
17. Sinéad O'Connor (Dublin, Ireland)
18. Jimmy Cliff (Saint James, Jamaica)
19. Thin Lizzy (Dublin, Ireland)
20. Arcade Fire (Montreal, Canada)
21. Bryan Adams (Kingston, Canada)
22. Nick Cave and the Bad Seeds (Melbourne, Australia)
23. Cliff Richard (Lucknow, India)
24. Sade Adu (Ibadan, Nigeria; incl. Sade)
25. INXS (Sydney, Australia)
26. Nick Drake (Rangoon, Burma)
27. Rihanna (Saint Michael, Barbados)
28. The Guess Who (Winnipeg, Canada)
29. Doug E. Fresh (Christ Church, Barbados)
30. Can (Cologne, Germany)
31. Crowded House (Melbourne, Australia)
32. Paul Anka (Ottawa, Canada)
33. Gordon Lightfoot (Orillia, Canada)
34. Tangerine Dream (Berlin, Germany)
35. Céline Dion (Charlemagne, Canada)
36. Midnight Oil (Sydney, Australia)
37. Kylie Minogue (Melbourne, Australia)
38. My Bloody Valentine (Dublin, Ireland)
39. Bachman-Turner Overdrive (Winnipeg, Canada)
40. Desmond Dekker (Saint Andrew, Jamaica)
41. Jean Michel Jarre (Lyon, France)
42. Scorpions (Hanover, Germany)
43. Sarah McLachlan (Halifax, Canada)
44. Dave Matthews (Johannesburg, South Africa; incl. Dave Matthews Band)
45. Sigur Rós (Reykjavik, Iceland)
46. Sepultura (Belo Horizonte, Brazil)
47. The Saints (Brisbane, Australia)
48. Toots and the Maytals (Kingston, Jamaica)
49. Gloria Estefan (Havana, Cuba)
50. Rory Gallagher (Ballyshannon, Ireland)
51. Grace Jones (Spanish Town, Jamaica)
52. The Cranberries (Limerick, Ireland)
53. Avril Lavigne (Belleville, Canada)
54. Men at Work (Melbourne, Australia)
55. Serge Gainsbourg (Paris, France)
56. Nickelback (Hanna, Canada)
57. Roxette (Halmstad, Sweden)
58. Alexis Korner (Paris, France)
59. Jack Scott (Windsor, Canada)
60. a-ha (Oslo, Norway)
61. Burning Spear (Saint Ann, Jamaica)
62. Gilbert O'Sullivan (Waterford, Ireland)
63. k.d. lang (Edmonton, Canada)
64. Lee "Scratch" Perry/The Upsetters (Kendal, Jamaica)
65. The Diamonds (Toronto, Canada)
66. Wyclef Jean (Croix-des-Bouquets, Haiti)
67. Neu! (Düsseldorf, Germany)
68. Joan Armatrading (Basseterre, Saint Kitts and Nevis)
69. Nelly Furtado (Victoria, Canada)
70. Augustus Pablo (Saint Andrew, Jamaica)
71. Billy Ocean (Fyzabad, Trinidad and Tobago)
72. Helen Reddy (Melbourne, Australia)
73. Air (Paris, France)
74. The Seekers (Melbourne, Australia)
75. Cowboy Junkies (Toronto, Canada)
76. Shaggy (Kingston, Jamaica)
77. The Cardigans (Jönköping, Sweden)
78. Aphex Twin (Limerick, Ireland)
79. Ace of Base (Gothenburg, Sweden)
80. Sean Paul (Kingston, Jamaica)
81. Giorgio Moroder (Ortisei, Italy)
82. The Birthday Party (Melbourne, Australia)
83. The Skatalites (Kingston, Jamaica)
84. Air Supply (Sydney, Australia)
85. Faust (Wümme, Germany)
86. Rick Springfield (Sydney, Australia)
87. Vangelis (Volos, Greece)
88. Shakira (Barranquilla, Colombia)
89. Neneh Cherry (Stockholm, Sweden)
90. Focus (Amsterdam, Netherlands)
91. Barenaked Ladies (Toronto, Canada)
92. The Easybeats (Sydney, Australia)
93. Peter Tosh (Grange Hill, Jamaica)
94. Little River Band (Melbourne, Australia)
95. The Church (Sydney, Australia)
96. The Vines (Sydney, Australia)
97. Feist (Amherst, Canada)
98. Black Uhuru (Kingston, Jamaica)
99. Nico (Cologne, Germany)
100. Godspeed You! Black Emperor (Montreal, Canada)

200 More Worth Mentioning
101. Chris de Burgh (Venado Tuerto, Argentina)
102. Monks (Gelnhausen, Germany)
103. Milli Vanilli (Munich, Germany)
104. The Sugarcubes (Reykjavik, Iceland)
105. The Boomtown Rats (Dún Laoghaire, Ireland)
106. Golden Earring (The Hague, Netherlands)
107. Savage Garden (Brisbane, Australia)
108. Linton Kwesi Johnson (Chapelton, Jamaica)
109. Loverboy (Calgary, Canada)
110. Nicki Minaj (Saint James, Trinidad and Tobago)
111. Natalie Imbruglia (Sydney, Australia)
112. Damien Rice (Celbridge, Ireland)
113. Enrique Iglesias (Madrid, Spain)
114. The Hives (Fagersta, Sweden)
115. Eddy Grant (Plaisance, Guyana)
116. Split Enz (Auckland, New Zealand)
117. Drake (Toronto, Canada)
118. Silverchair (Newcastle, Australia)
119. The Corrs (Dundalk, Ireland)
120. Sly & Robbie (Kingston, Jamaica)
121. The New Pornographers (Vancouver, Canada)
122. Aqua (Copenhagen, Denmark)
123. Phoenix (Versailles, France)
124. King Tubby (Kingston, Jamaica)
125. The Avalanches (Melbourne, Australia)
126. Robyn (Stockholm, Sweden)
127. Bruce Cockburn (Ottawa, Canada)
128. The Go-Betweens (Brisbane, Australia)
129. Justin Bieber (Stratford, Canada)
130. Einstürzende Neubauten (Berlin, Germany)
131. Röyksopp (Bergen, Norway)
132. Yello (Zurich, Switzerland)
133. Big Youth (Kingston, Jamaica)
134. Manu Chao (Paris, France)
135. Hanoi Rocks (Helsinki, Finland)
136. Alannah Myles (Toronto, Canada)
137. Gregory Isaacs (Kingston, Jamaica)
138. Yellow Magic Orchestra (Tokyo, Japan)
139. Alton Ellis (Kingston, Jamaica)
140. The Knife (Stockholm, Sweden)
141. Skinny Puppy (Vancouver, Canada)
142. Europe (Upplands Väsby, Sweden)
143. Hothouse Flowers (Dublin, Ireland)
144. Buffy Sainte-Marie (Piapot, Canada)
145. Shabba Ranks (Sturgetown, Jamaica)
146. Broken Social Scene (Toronto, Canada)
147. Prince Buster (Kingston, Jamaica)
148. Pat Travers (Toronto, Canada)
149. Amon Düül II (Munich, Germany)
150. Westlife (Dublin, Ireland)
151. M83 (Antibes, France)
152. Foetus (Melbourne, Australia)
153. Opeth (Stockholm, Sweden)
154. Wolf Parade (Victoria, Canada)
155. Popol Vuh (Munich, Germany)
156. Ken Boothe (Kingston, Jamaica)
157. Robbie Robertson (Toronto, Canada)
158. Wolfmother (Sydney, Australia)
159. The Congos (Kingston, Jamaica)
160. Os Mutantes (São Paulo, Brazil)
161. Tom Cochrane (Lynn Lake, Canada)
162. Gong (Paris, France)
163. Cut Copy (Melbourne, Australia)
164. U-Roy (Kingston, Jamaica)
165. dEUS (Antwerp, Belgium)
166. Peter Bjorn and John (Stockholm, Sweden)
167. Beenie Man (Kingston, Jamaica)
168. Gotye (Bruges, Belgium)
169. Plastic Bertrand (Brussels, Belgium)
170. Sugar Minott (Kingston, Jamaica)
171. Divinyls (Sydney, Australia)
172. Alexander "Skip" Spence (Windsor, Canada)
173. Hoodoo Gurus (Sydney, Australia)
174. Boredoms (Osaka, Japan)
175. Technotronic (Aalst, Belgium)
176. Klaus Schulze (Berlin, Germany)
177. Jeff Healey (Toronto, Canada)
178. Culture (Kingston, Jamaica)
179. Françoise Hardy (Paris, France)
180. Boyzone (Dublin, Ireland)
181. Corey Hart (Montreal, Canada)
182. Justice (Paris, France)
183. Helloween (Hamburg, Germany)
184. Dead Can Dance (Melbourne, Australia)
185. The Notwist (Weilheim, Germany)
186. The Abyssinians (Kingston, Jamaica)
187. Taste (Cork, Ireland)
188. Jon Secada (Havana, Cuba)
189. Ash Ra Tempel (Berlin, Germany)
190. Black Box (Reggio Emilia, Italy)
191. Sum 41 (Ajax, Canada)
192. The Tragically Hip (Kingston, Canada)
193. Cluster (Berlin, Germany)
194. Buju Banton (Kingston, Jamaica)
195. Propaganda (Düsseldorf, Germany)
196. Silver Convention (Munich, Germany)
197. Jet (Melbourne, Australia)
198. Triumph (Toronto, Canada)
199. I-Roy (Saint Thomas, Jamaica)
200. Falco (Vienna, Austria)

201. Crystal Castles (Toronto, Canada)
202. Millie (Clarendon, Jamaica)
203. Gino Vannelli (Montreal, Canada)
204. Seether (Johannesburg, South Africa)
205. Boney M. (Germany)
206. Crash Test Dummies (Winnipeg, Canada)
207. HIM (Helsinki, Finland)
208. Canibus (Kingston, Jamaica)
209. Psy (Seoul, South Korea)
210. Nektar (Hamburg, Germany)
211. Bunny Wailer (Kingston, Jamaica)
212. Snow (North York, Canada)
213. Dirty Three (Melbourne, Australia)
214. Simple Plan (Montreal, Canada)
215. Damian "Jr. Gong" Marley (Kingston, Jamaica)
216. Aldo Nova (Montreal, Canada)
217. Real McCoy (Berlin, Germany)
218. Men Without Hats (Montreal, Canada)
219. Our Lady Peace (Toronto, Canada)
220. Ziggy Marley (Kingston, Jamaica)
221. Dan Hill (Toronto, Canada)
222. Three Days Grace (Toronto, Canada)
223. Deutsch-Amerikanische Freundschaft (Düsseldorf, Germany)
224. Martha & the Muffins (Toronto, Canada)
225. 2 Unlimited (Amsterdam, Netherlands)
226. Radio Birdman (Sydney, Australia)
227. Franco Battiato (Riposto, Italy)
228. t.A.T.u. (Moscow, Russia)
229. Hot Hot Heat (Victoria, Canada)
230. Dennis Brown (Kingston, Jamaica)
231. Regina Spektor (Moscow, Russia)
232. Yngwie Malmsteen (Stockholm, Sweden)
233. Caribou/Manitoba (Dundas, Canada)
234. The Mighty Diamonds (Kingston, Jamaica)
235. Andy Kim (Montreal, Canada)
236. Eiffel 65 (Turin, Italy)
237. In Flames (Gothenburg, Sweden)
238. The Ethiopians (Kingston, Jamaica)
239. Junior Boys (Hamilton, Canada)
240. April Wine (Halifax, Canada)
241. Fennesz (Vienna, Austria)
242. Boris (Tokyo, Japan)
243. Mika (Beirut, Lebanon)
244. Japandroids (Vancouver, Canada)
245. Manuel Göttsching (Berlin, Germany)
246. Jens Lekman (Gothenburg, Sweden)
247. Me'Shell NdegéOcello (Berlin, Germany)
248. Chaka Demus & Pliers (Jamaica)
249. Cansei de Ser Sexy (São Paulo, Brazil)
250. Nena (Hagen, Germany)
251. Shocking Blue (The Hague, Netherlands)
252. Flight of the Conchords (Wellington, New Zealand)
253. Jam & Spoon (Frankfurt, Germany)
254. Dave & Ansel Collins (Kingston, Jamaica)
255. Snap! (Frankfurt, Germany)
256. Rammstein (Berlin, Germany)
257. The Script (Dublin, Ireland)
258. Yoko Ono (Tokyo, Japan)
259. Sizzla (Saint Mary, Jamaica)
260. The Thrills (Dublin, Ireland)
261. Stardust (Paris, France)
262. Accept (Solingen, Germany)
263. B*Witched (Dublin, Ireland)
264. Cerrone (Vitry-sur-Seine, France)
265. Urban Dance Squad (Utrecht, Netherlands)
266. Eagle-Eye Cherry (Stockholm, Sweden)
267. Icehouse (Sydney, Australia)
268. Inner Circle (Jamaica)
269. Refused (Umeå, Sweden)
270. Keith Hudson (Kingston, Jamaica)
271. Ron Sexsmith (St. Catharines, Canada)
272. Bran Van 3000 (Montreal, Canada)
273. Lykke Li (Ystad, Sweden)
274. Brigitte Fontaine (Morlaix, France)
275. Justin Hinds (Saint Ann, Jamaica)
276. Krokus (Solothurn, Switzerland)
277. Carl Douglas (Jamaica)
278. Mouse on Mars (Düsseldorf, Germany)
279. Junior Murvin (Port Antonio, Jamaica)
280. Blue Swede (Stockholm, Sweden)
281. Les Rita Mitsouko (Paris, France)
282. Los Bravos (Madrid, Spain)
283. The Swell Season/Glen Hansard & Markéta Irglová (Valašské Mezirící, Czech Republic)
284. Holger Czukay (Gdansk, Poland)
285. Terry Jacks (Winnipeg, Canada)
286. Fucked Up (Toronto, Canada)
287. Whigfield (Skælskør, Denmark)
288. Third World (Kingston, Jamaica)
289. Bettie Serveert (Arnhem, Netherlands)
290. Basia (Jaworzno, Poland)
291. Jane Child (Toronto, Canada)
292. Celtic Frost (Zurich, Switzerland)
293. Frida (Bjørkåsen, Norway)
294. Horslips (Dublin, Ireland)
295. Klaatu (Toronto, Canada)
296. Sash! (Nettetal, Germany)
297. Magma (Paris, France)
298. Ini Kamoze (Port Maria, Jamaica)
299. Five Man Electrical Band (Ottawa, Canada)
300. The Chills (Dunedin, New Zealand)


Edited By: pauldrach
Last Updated: 2013-08-04

Criteria: The artists were ranked for their popularity, critical acclaim and influence on rock music from a U.S. and British point of view.

Definition: Any artist was eligible, that performed in a rock music style and was born or formed outside the USA and UK. In addition the artist should have achieved a certain level of significance on an international level, which means that even artists that became superstars in their home country were not considered, if they failed to gain an international audience or notable acclaim in the USA or UK. The list uses a rather broad interpretation of the term rock music, including, among others, the subgenres of soul, funk, hip-hop, reggae, metal, punk, dance, post-1960s electronic music, rock-influenced pop, and alternative rock and pop genres.


---