100 Greatest Reggae Artists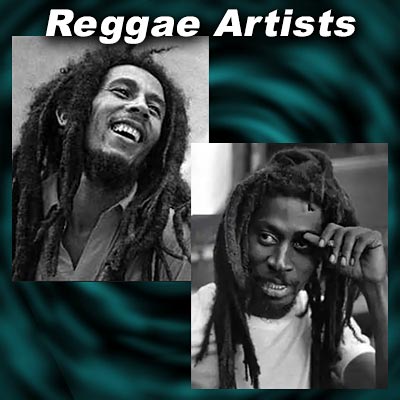 1. Bob Marley
2. Peter Tosh
3. Toots and the Maytals
4. Jimmy Cliff
5. Burning Spear
6. Bunny Wailer
7. Black Uhuru
8. Sly and Robbie
9. Third World
10. Lee "Scratch" Perry
11. I-Roy
12. King Tubby
13. U-Roy
14. Laurel Aitken
15. Mutabaruka
16. Culture
17. Big Youth
18. Wailing Souls
19. Desmond Dekker
20. Steel Pulse
21. Prince Buster
22. Scientist
23. Alton Ellis
24. Gregory Isaacs
25. Dennis Brown
26. The Skatalites
27. Harry Belafonte
28. John Holt
29. Linton Kwesi Johnson
30. Jacob Miller
31. Mad Professor
32. Aswad
33. Judge Dread
34. The Heptones
35. The Ethiopians
36. Ras Michael
37. Johnny Clarke
38. Pablo Moses
39. The Mighty Diamonds
40. Beres Hammond
41. The Itals
42. Sugar Minott
43. Prince Far I
44. Freddie McGregor
45. Yellowman
46. Max Romeo
47. Linval Thompson
48. Bryon Lee
49. Delroy Wilson
50. Dennis Alcapone
51. Owen Gray
52. Ken Boothe
53. The Upsetters
54. Tappa Zukie
55. Barrington Levy
56. Inner Circle
57. The Abyssinians
58. Dillinger
59. Justin Hinds and the Dominoes
60. Mikey Dread
61. Derrick Morgan
62. Mighty Sparrow
63. Junior Delgado
64. Eek-a-Mouse
65. African Head Charge
66. Ijahman Levi
67. Horace Andy
68. Augustus Pablo
69. Israel Vibration
70. Junior Reid
71. Johnny Nash
72. Junior Murvin
73. Capelton
74. The Tamlins
75. UB40
76. Andrew Tosh
77. Trinity
78. Millie Small
79. Jackie Mittoo
80. JC Lodge
81. Al Campbell
82. Lucky Dube
83. Roots Radics
84. General Echo
85. Johnny Osbourne
86. Pluto Shervington
87. Garnet Silk
88. Don Drummond
89. Christafari
90. Madoo
91. The Chantells
92. The Melodians
93. Mad Cobra
94. Ziggy Marley
95. Ansel Collins
96. Clancy Eccles
97. Buju Banton
98. Freddie Notes & The Rudies
99. Bim Sherman
100. The Clarendonians




The Cimarons
Damian "Jr Gong" Marley
Gladiators
Don Carlos
Sean Paul
Revolutionaries
Kinghopeton
Clint Eastwood
Tommy McCook
Luciano
Pam Hall
Shaggy
Bounty Killer
Elephant Man
Lady Saw
Marcia Griffiths
Frankie Paul
Sizzla
Shabba Ranks
Chaka Demus and the Pliers
Cocoa Tea
Jah Cure
Keith Hudson
Tanto Metro
Alpha Blondy
Matisyahu
Little John
Gentleman
I-Threes
Beenie Man
Wayne Wonder
Misty in Roots
Maxi Priest
Cynthia Schloss
Reggae Cowboys
The Meditations
Morgan Heritage
Spanner Banner
Rita Marley
Judy Mowatt


Edited By: Lew
Last Updated: 2009-03-27

Criteria: These Reggae artists were chosen on thier impact, lasting popularity, influence, and talent in Traditional and Contemporary Reggae music.

Background: Reggae - Around 1960, in the slums of Kingston Jamaica, where the local bands were playing a musical mixture of American R&B, Caribbean, and pan-African sounds, drummers began to emphasize the afterbeat, the 2nd and 4th beats (4/4 time) in unison with the piano and guitar while the bass played walking quarter notes. The musicians called the sound "Upside-down R&B". It soon became known as "Ska". As time passed Ska slowed the beat, lost it's brass sound and morphed into "Rocksteady", performed with fewer musicians and using more harmony vocals. Around 1968 the influences of Rastafari and Africanism along with political and social unrest in Jamaica gave birth to "Reggae", with a slower, stripped-down, less "Pop-like" sound often with accents added on the 3rd beat. Today the term "Reggae" applies broadly to all the Jamaican born music that contains the original afterbeat rhythm.


---