100 Greatest Reggae Songs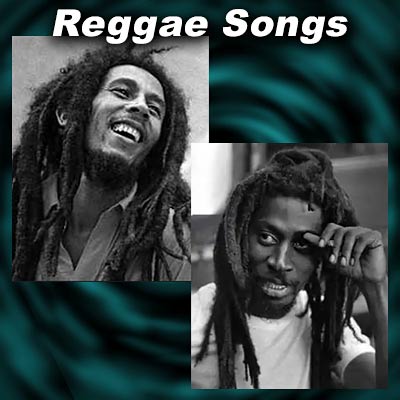 1. No Woman, No Cry - Bob Marley & the Wailers
2. Israelites - Desmond Dekker & the Aces
3. Stir It Up - Bob Marley & the Wailers
4. Pressure Drop - Toots & the Maytals
5. The Harder They Come - Jimmy Cliff
6. One Love - Bob Marley & the Wailers
7. 54-46 That's My Number - Toots & the Maytals
8. Satta Massagana - The Abyssinians
9. Funky Kingston - Toots & the Maytals
10. Montego Bay - Freddie Notes & The Rudies
11. Many Rivers To Cross - Jimmy Cliff
12. Marcus Garvey - Burning Spear
13. Legalize It - Peter Tosh
14. Redemption Song - Bob Marley & the Wailers
15. Here I Come - Dennis Brown
16. Get Up, Stand Up - Bob Marley & the Wailers
17. Rudy Got Soul - Desmond Dekker & The Aces
18. The Tide Is High - The Paragons
19. Three Little Birds - Bob Marley & the Wailers
20. Everything I Own - Ken Boothe
21. Night Nurse - Gregory Isaacs
22. You Don't Care - The Techniques
23. Vietnam - Jimmy Cliff
24. Rivers Of Babylon - The Melodians
25. Police & Thieves - Junior Murvin
26. Buffalo Soldier - Bob Marley & the Wailers
27. Red Red Wine - UB40
28. Cherry Oh Baby - Eric Donaldson
29. (I Am) The Upsetter - Lee "Scratch" Perry
30. Sitting & Watching - Dennis Brown
31. Jammin' - Bob Marley & the Wailers
32. Wear You To The Ball - U-Roy & The Paragons
33. Two Sevens Clash - Culture
34. I Shot The Sheriff - Bob Marley & the Wailers
35. Armagideon Time - Willie Williams
36. 007 Shanty Town - Desmond Dekker & The Aces
37. A Love I Can Feel - John Holt
38. Revolution - Dennis Brown
39. Queen Majesty - The Techniques
40. Natty Rebel - U-Roy
41. Loving Pauper - Dobby Dobson
42. Natural Mystic - Bob Marley
43. Equal Rights - Peter Tosh
44. Rocksteady - Alton Ellis & The Flames
45. Do The Reggay - Toots & the Maytals
46. Don't Stay Away - Phyllis Dillon
47. Baby Why - The Cables
48. One Blood - Junior Reid
49. Iron Lion Zion - Bob Marley & the Wailers
50. Book Of The Rules - The Heptones
51. Telephone Love - JC Lodge
52. Blackheart Man - Bunny Wailer
53. Nanny Goat - Larry & Alvin Marshall
54. Unchained - Bob Andy
55. Tenement Yard - Jacob Miller
56. Ba Ba Boom - The Jamaicans
57. I'm Still In Love With You - Alton Ellis
58. Pass The Kutchie - The Mighty Diamonds
59. Wonderful World, Beautiful People - Jimmy Cliff
60. Mama Africa - Peter Tosh
61. Fade Away - Jr. Byles
62. How Could I Leave - Dennis Brown
63. Soon Forward - Gregory Isaacs
64. Trenchtown Rock - Bob Marley & the Wailers
65. Westbound Train - Dennis Brown
66. Cool Rasta - The Heptones
67. My Conversation - Slim Smith & The Uniques
68. You Can Get It If You Really Want - Jimmy Cliff
69. Now That We Found Love - Third World
70. Talk About Love - Pat Kelly
71. I Need A Roof - The Mighty Diamonds
72. 1865 (96 Degrees In The Shade) - Third World
73. Declaration of Rights - The Abyssinians
74. War Inna Babylon - Max Romeo
75. Big Ship - Freddie McGregor
76. Waiting In Vain - Bob Marley & the Wailers
77. Guess Who's Comming To Dinner - Black Uhuru
78. I Can See Clearly Now - Johnny Nash
79. What One Dance Can Do - Beres Hammond
80. Crying Over You - Ken Boothe
81. Someone Loves You - JC Lodge
82. Sonny's Lettah - Linton Kwesi Johnson
83. What Kind Of World - The Cables
84. Rain From The Sky - Delroy Wilson
85. Everything Crash - The Ethiopians
86. Love Me Forever - Carlton & The Shoes
87. Johnny Too Bad - The Slickers
88. Love Is My Religion - Ziggy Marley
89. Monkey Man - Toots & the Maytals
90. War - Bob Marley & the Wailers
91. Can I Change My Mind - Alton Ellis
92. Duppy Gunman - Ernie Smith
93. Zungguzungguguzungguzeng - Yellowman
94. Black Cinderella - Errol Dunkley
95. Have Mercy - The Mighty Diamonds
96. Tumblin Down - Ziggy Marley & The Melody Makers
97. My Boy Lollipop - Millie Small
98. Hold Me Tight - Johnny Nash
99. Angel - Shaggy & Rayvon
100. Dreadlocks In Moonlight - Lee "Scratch" Perry

100 More Worth Mentioning
101. Freedom Street - Ken Boothe
102. Give A Little Love - Ziggy Marley & The Melody Makers
103. You Don't Love Me (No No No) - Dawn Penn
104. Welcome To Jamrock - Damian Marley
105. 400 Years - Peter Tosh & the Wailers
106. Perfidia - Phyllis Dillon
107. Feel Like Jumping - Marcia Griffiths
108. African Herbsman - Bob Marley & the Wailers
109. Greetings - Half Pint
110. Better Must Come - Delroy Wilson
111. Nobody Move, Nobody Get Hurt - Yellowman
112. Rumours - Gregory Isaacs
113. Electric Boogie - Marcia Griffiths
114. Maga Dog - Peter Tosh
115. What Is Life? - Black Uhuru
116. I've Got To Go Back Home - Bob Andy
117. Pretty Looks Isn't All - The Heptones
118. Breaking Up - Alton Ellis
119. The Gorgon - Cornell Campbell
120. Ram Goat Liver - Pluto Shervington
121. All Wi Doin Is Defendin - Linton Kwesi Johnson
122. People Are You Ready - Johnny Osbourne
123. Take It Easy - Hopeton Lewis
124. Moving Away - Ken Boothe
125. Rock & Groove - Bunny Wailer
126. Tomorrow People - Ziggy Marley & The Melody Makers
127. Herbman Hustling - Sugar Minott
128. Buddy Bye - Johnny Osbourne
129. Murderer - Barrington Levy
130. Oh Carolina - Shaggy
131. Sweet Sensation - The Melodians
132. Calling Rastafari - Culture
133. Sweet Talking - The Heptones
134. Reggae Ambassador - Third World
135. Baltimore - The Tamlins
136. Forward Jah Jah Children - Jacob Miller
137. Things You Say You Love - The Jamaicans
138. Look Who's Dancin' - Ziggy Marley & The Melody Makers
139. Black Man Time - I-Roy
140. Ok Fred - Errol Dunkley
141. This Is Reggae Music - Zap Pow
142. Always Together - Bob Andy & Marcia Griffiths
143. Members Only - Tyrone Taylor
144. Love Forever - Cynthia Schloss
145. Ball Room Floor - Bunny Wailer
146. Fire Burning - Bob Andy
147. Sinsemilla - Black Uhuru
148. Betcha By Golly Wow - Errol Dunkley
149. Can't Hide From Jah - Yellowman
150. Youthman - Jr. Reid
151. Shark Attack - Wailing Souls
152. Boombastic - Shaggy
153. Under Me Sleng Teng - Wayne Smith
154. Dance of the Vampires - Scientist
155. Who Can Make The Dance Ram - Yellowman
156. Give It All You've Got - Beres Hammond
157. Arlene - General Echo
158. Rockaway - Beres Hammond
159. Play de Music - Ernie Smith
160. No Vacancy - Sugar Minott
161. Rhythm Of Life - Third World
162. Queen of The Minstrels - Cornell Campbell
163. Natty With A Cause - Willie Williams
164. Guava Jelly - Johnny Nash
165. Rude Boy Gone A Jail - The Clarendonians
166. Stop Lovin You - Freddie McGregor
167. Birds Of A Feather - Johnny Nash
168. Mr. DC - Sugar Minott
169. Night And Day - Dawn Penn
170. Tune In - Cocoa Tea
171. All The Way In - Cynthia Schloss
172. Carry Go Bring Come - Justin Hinds & The Dominoes
173. Ten Commandments - Prince Buster
174. Sidewalk Killer - I-Roy
175. Natty Dread In A Greenwich Farm - Cornell Campbell
176. Mission - Admiral Tibbett
177. Jamming In The Street - Sugar Minott
178. Train To Skaville - Derrick Morgan
179. Hard To Confess - The Tamlins
180. Nice Up The Dance - Michigan & Smiley
181. Black People - The Slickers
182. Solomon - Derrick Harriott
183. Caan Dun - Shabba Ranks
184. One Draw - Rita Marley
185. Ganga Smuggling - Eek-a-Mouse
186. Positive Vibrations - Ras Michael & The Sons Of Negus
187. The Same Song - Israel Vibration
188. On The Beach - The Paragons
189. One Love, One Heart - Righteous Flames
190. Under Mi Sensi - Barrington Levy
191. I Love Marijuana - Linval Thompson
192. A Hundred Pounds Of Collie - Cornell Campbell
193. Champion - Buju Banton
194. Tired Fe Lick Weed In A Bush - Jacob Miller
195. Smoke Two Joints - The Toyes
196. Pirates Anthem - Shabba Ranks
197. Police In Helicopter - John Holt
198. Look - Bounty Killer
199. Your Honour - Pluto Shervington
200. Fatty Fatty - Clancy Eccles


Edited By: Lew
List Begun: 2008-02-15

Criteria: This top 200 songs list contains the classic Ska, Rocksteady, Reggae, Dancehall and Dub songs from Jamaica along with newer songs from Reggae artists in the U.K., U.S. and Africa. Rankings are based on initial and lasting popularity as well as influence and impact in Reggae music. (Note: These are Reggae songs by Reggae artists. Not the occasional reggae song recorded by non-reggae artists.)

Background: Reggae - Around 1960, in the slums of Kingston Jamaica, where the local bands were playing a musical mixture of American R&B, Caribbean, and pan-African sounds, drummers began to emphasize the afterbeat, the 2nd and 4th beats (4/4 time) in unison with the piano and guitar while the bass played walking quarter notes. The musicians called the sound "Upside-down R&B". It soon became known as "Ska". As time passed Ska slowed the beat, lost it's brass sound and morphed into "Rocksteady", performed with fewer musicians and using more harmony vocals. Around 1968 the influences of Rastafari and Africanism along with political and social unrest in Jamaica gave birth to "Reggae", with a slower, stripped-down, less "Pop-like" sound often with accents added on the 3rd beat. Today the term "Reggae" applies broadly to all the Jamaican born music that contains the original afterbeat rhythm.

---