100 Greatest Rock Artists Of The 1990s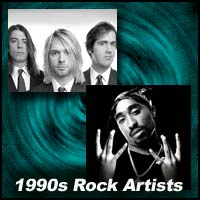 1. Nirvana
2. 2Pac
3. Mariah Carey
4. Pearl Jam
5. Madonna
6. R.E.M.
7. U2
8. Dr. Dre
9. Red Hot Chili Peppers
10. The Smashing Pumpkins
11. The Notorious B.I.G.
12. OutKast
13. Janet Jackson
14. Radiohead
15. Green Day
16. Fugees/Lauryn Hill
17. Metallica
18. Ice Cube
19. Oasis
20. TLC
21. Alice In Chains
22. Snoop Dogg
23. Nine Inch Nails
24. Nas
25. Beastie Boys
26. Rage Against The Machine
27. Jay-Z
28. A Tribe Called Quest
29. Mary J. Blige
30. Beck
31. Soundgarden
32. Public Enemy
33. Wu-Tang Clan
34. Alanis Morissette
35. Guns N Roses
36. Bjork
37. Queen Latifah
38. Dave Matthews Band
39. No Doubt
40. Prince
41. Michael Jackson
42. R. Kelly
43. En Vogue
44. Tori Amos
45. Missy Elliot
46. Jeff Buckley
47. Weezer
48. PJ Harvey
49. Blur
50. Tool
51. Sonic Youth
52. Stone Temple Pilots
53. Jane's Addiction
54. Eric Clapton
55. Boyz II Men
56. Seal
57. Bush
58. Fugazi
59. Sinead O' Conner
60. Cypress Hill
61. The Roots
62. The Offspring
63. Neil Young
64. Sublime
65. Marilyn Manson
66. Pantera
67. Liz Phair
68. Pavement
69. Coolio
70. Korn
71. Foo Fighters
72. My Bloody Valentine
73. Black Crowes
74. Silver Chair
75. The Verve
76. Phish
77. 311
78. Hole
79. The Flaming Lips
80. Lenny Kravitz
81. Nick Cave & The Bad Seeds
82. Sheryl Crow
83. Megadeth
84. Faith No More
85. Queen
86. Cranberries
87. Busta Rhymes
88. Warren G.
89. The Mighty Mighty Bosstones
90. Kenny Wayne Shepherd Band
91. D'Angelo
92. Creed
93. Arrested Development
94. Blind Melon
95. Manic Street Preachers
96. Garbage
97. Screaming Trees
98. Hootie & The Blowfish
99. Primus
100. Wilco


Edited By: Pave
Last Updated: 2012-09-15

Criteria: Popularity, Influence, Musical Impact, and Cultural Impact.

Note: This list does not take into account anything that artist did before or after the decade. Artists with two years or less of active recording during the decade are excluded, unless it was the ONLY decade in which they performed. This explains the exclusion of Eminem, System Of A Down, The White Stripes & others frequently associated with the late 1990's. They would count for the 2000s.