Woodstock 1969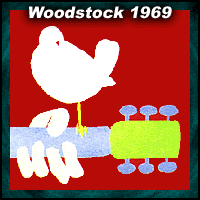 Lineup and Songlist


DAY ONE - August 15, 1969 - Friday
1. Richie Havens
1.
The Minstrel from Gault
2.
From the Prison
3.
Get Together
4.
From the Prison (Reprise)
5.
I'm a Stranger Here
6.
High Flying Bird
7.
I Can't Make It Anymore
8.
With a Little Help from My Friends
9.
Handsome Johnny
10.
Strawberry Fields Forever / Hey Jude
11.
Freedom (Motherless Child)
2. Swami Satchidananda
Swami Satchidananda gives the keynote address
3. John B. Sebastian
1.
How Have You Been
2.
Rainbows All Over Your Blues
3.
I Had A Dream
4.
Darlin' Be Home Soon
5.
Younger Generation
4. Sweetwater
1.
Motherless Child
2.
Look Out (???)
3.
For Pete's Sake
4.
Day Song
5.
What's Wrong
6.
My Crystal Spider
7.
Two Worlds (???)
8.
Band Introduction
9.
Why Oh Why
5. Incredible String Band
1.
Invocation
2.
The Letter
3.
This Moment
4.
When You Find Out Who You Are
6. Bert Sommer
1.
Jennifer
2.
The Road To Travel
3.
I Wondered Where You Be
4.
She's Gone
5.
Things Are Going My Way
6.
And When It's Over
7.
Jeanette
8.
America
9.
A Note That Read
10.
Smile
7. Tim Hardin
1.
(How Can We) Hang on to a Dream
2.
Susan
3.
If I Were a Carpenter
4.
Reason to Believe
5.
You Upset the Grace of Living When You Lie
6.
Speak Like a Child
7.
Snow White Lady
8.
Blues on My Ceiling
9.
Simple Song of Freedom
10.
Misty Roses
8. Ravi Shankar
1.
Raga Puriya-Dhanashri/Gat In Sawarital
2.
Tabla Solo In Jhaptal
3.
Raga Manj Kmahaj
4.
lap Jor
5.
Dhun In Kaharwa Tal
9. Melanie
1.
Close to It All
2.
Momma Momma
3.
Beautiful People
4.
Animal Crackers
5.
Mr. Tambourine Man
6.
Tuning My Guitar
7.
Birthday of the Sun
10. Arlo Guthrie
1.
Coming into Los Angeles
2.
Wheel of Fortune
3.
Walking Down the Line
4.
Arlo Speech: Exodus
5.
Oh Mary, Don't You Weep
6.
Every Hand in the Land
7.
Amazing Grace
11. Joan Baez
1.
Oh Happy Day
2.
The Last Thing On My Mind
3.
I Shall Be Released
4.
Joe Hill
5.
Sweet Sir Galahad
6.
Hickory Wind
7.
Drug Store Truck Driving Man
8.
I Live One Day At A Time
9.
Sweet Sunny South
10.
Warm and Tender Love
11.
Swing Low Sweet Chariot
12.
We Shall Overcome
DAY TWO - August 16, 1969 - Saturday
1. Quill
1.
Driftin'
2.
They Live the Life
3.
BBY
4.
Waitin' For You
5.
Jam
2. Santana
1.
Waiting
2.
Evil Ways
3.
You Just Don't Care
4.
Savior
5.
Jingo
6.
Persuasion
7.
Soul Sacrifice
8.
Fried Neckbones
3. Keef Hartley Band
1.
Spanish Fly
2.
Believe In You
3.
Rock Me Baby
4.
Medley: Leavin' Trunk, Halfbreed, Just To Cry, Sinnin' For You
4. Canned Heat
1.
I'm Her Man
2.
Going Up the Country
3.
A Change Is Gonna Come
4.
Leaving This Town
5.
The Bear Talks
6.
Let's Work Together
7.
Too Many Drivers at the Wheel
8.
I Know My Baby
9.
Woodstock Boogie
10.
On the Road Again
5. Grateful Dead
1.
St. Stephen
2.
Mama Tried
3.
Dark Star
4.
High Time
5.
Turn On Your Lovelight
6. Mountain
1.
Blood Of The Sun
2.
Stormy Monday
3.
Long Red
4.
Who Am I But You And The Sun
5.
Beside The Sea
6.
For Yasgur's Farm (then untitled)
7.
You And Me
8.
Theme From An Imaginary Western
9.
Waiting To Take You Away
0.
Dreams Of Milk And Honey
11.
Blind Man
12.
Blue Suede Shoes
13.
Southbound Train
7. Creedence Clearwater Revival
1.
Born On The Bayou
2.
Green River
3.
Ninety-Nine And A Half (Won't Do)
4.
Commotion
5.
Bootleg
6.
Bad Moon Rising
7.
Proud Mary
8.
I Put A Spell On You
9.
Night Time Is The Right Time
10.
Keep On Choogin'
11.
Suzy Q
8. Sly & The Family Stone
1.
M'Lady
2.
Sing A Simple Song
3.
You Can Make It If You Try
4.
Everyday People
5.
Dance To The Music
6.
Music Lover
7.
I Want To Take You Higher
8.
Love City
9.
Stand!
9. Janis Joplin
1.
Raise Your Hand
2.
As Good As You've Been To This World
3.
To Love Somebody
4.
Summertime
5.
Try (Just A Little Bit Harder)
6.
Kosmic Blues
7.
Can't Turn You Loose
8.
Work Me Lord
9.
Piece Of My Heart
10.
Ball and Chain
10. The Who
1.
Heaven And Hell
2.
I Can't Explain
3.
It's A Boy
4.
1921
5.
Amazing Journey
6.
Sparks
7.
Eyesight To The Blind
8.
Christmas
9.
Acid Queen
10.
Pinball Wizard
11.
(Abbie Hoffmann Incident)
12.
Do You Think It's Alright?
13.
Fiddle About
14.
There's A Doctor I've Found
15.
Go To The Mirror Boy
16.
Smash The Mirror
17.
I'm Free
18.
Tommy's Holiday Camp
19.
We're Not Gonna Take It
20.
See Me Feel Me
21.
Summertime Blues
22.
Shakin' All Over
23.
My Generation
24.
Naked Eye
11. Jefferson Airplane
1.
The Other Side of This Life
2.
Plastic Fantastic Lover
3.
Volunteers
4.
Won't You Try / Saturday Afternoon
5.
Eskimo Blue Day
6.
Uncle Sam's Blues
7.
Somebody To Love
8.
White Rabbit
9.
3/5 Of A Mile In 10 Seconds
10.
The Ballad of You & Me & Pooniel
12.
House at Pooniel Corners
DAY THREE - August 17, 1969 - Sunday
1. Joe Cocker
1.
Delta Lady
2.
Some Things Goin' On
3.
Let's Go Get Stoned
4.
I Shall Be Released
5.
With A Little Help From My Friends
2. Country Joe & The Fish
1.
Rock And Soul Music
2.
(Thing Called) Love
3.
Love Machine
4.
Barry's Caviar Dream
5.
Not So Sweet Martha Lorraine
6.
Summer Dresses
7.
Crystal Blues
8.
F-I-S-H Cheer / I-Feel-Like-I'm-Fixin'-To-Die Rag
3. Ten Years After
1.
Good Morning Little Schoolgirl
2.
I Can't Keep From Crying Sometimes
3.
I May Be Wrong, But I Won't Be Wrong Always
4.
Hear Me Calling
5.
I'm Going Home
4. The Band
1.
Chest Fever
2.
Baby Don't Do It
3.
Tears Of Rage
4.
We Can Talk
5.
Long Black Veil
6.
Don't You Tell Henry
7.
Ain't No More Cane
8.
Wheels On Fire
9.
Loving You Is Sweeter Than Ever
10.
The Weight
After midnight - Monday Morning) - August 18, 1969
5. Blood Sweat And Tears
1.
More And More
2.
I Love You Baby More Than You Ever Know
3.
Spinning Wheel
4.
I Stand Accused
5.
Something Coming On
6.
God Bless The Child (Order ?)
6. Johnny Winter
1.
Mama, Talk To Your Daughter
2.
To Tell The Truth
3.
Johnny B Goode
4.
Six Feet In The Ground
5.
Leland Mississippi Blues/Rock Me Baby
6.
Mean Mistreater
7.
I Can't Stand It
(With Edgar Winter)
8.
Tobacco Road
(With Edgar Winter)
9.
Mean Town Blues
7. Crosby, Stills, & Nash
(Set One - Acoustic)
1.
Suite: Judy Blue Eyes
2.
Blackbird
3.
Helplessly Hoping
4.
Guinnevere
5.
Marrakesh Express
6.
4 + 20
7.
Mr Soul
8.
Wonderin'
9.
You Don't Have To Cry
(Set Two - Electric)
10.
Pre-road Downs
11.
Long Time Gone
12.
Bluebird
13.
Sea Of Madness
14.
Wooden Ships
(Encore - Acoustic)
15.
Find The Cost Of Freedom
16.
49 bye-byes
8. Paul Butterfield Blues Band
1.
Everything's Gonna Be Alright
2.
Driftin'
3.
Born Under A Bad Sign
4.
All My Love Comin' Through To You
5.
Love March
9. Sha-Na-Na
1.
Na Na Theme
2.
Yakety Yak
3.
Jailhouse Rock
4.
Teen Angel
5.
Wipe Out
6.
Who Wrote The Book Of Love
7.
Duke Of Earl
8.
At The Hop
9.
Na Na Theme
10. Jimi Hendrix (The Gypsy Sun & Rainbows Band)
1.
Message To Love
2.
Hear My Train A Comin'
3.
Spanish Castle Magic
4.
Red House
5.
Master Mind
6.
Here Comes Your Lover Man
7.
Foxy Lady
8.
Beginning
9.
Izabella
10.
Gypsy Woman
11.
Fire
12.
Voodoo Child (slight return)/Stepping Stone
13.
Star Spangled Banner
14.
Purple Haze
15.
Woodstock Improvisation/Villanova Junction
16.
Hey Joe
Cancelled Acts
•
Jeff Beck Group
(The band broke up in July, forcing cancellation)
•
Iron Butterfly
(Stuck at the airport, their manager demanded helicopters and special arrangements just for them. Were wired back and told, as impolitely as Western Union would allow, "to get lost", but in other 'words'.)
•
Joni Mitchell
(Joni's agent put her on "The Dick Cavett Show" instead)
•
Lighthouse
(Feared that it would be a "bad scene".)
•
Ethan Brown
(Arrested for LSD three days before the event.)
Declined Invitations
•
The Beatles
(John Lennon said he couldn't get them together)
•
Led Zeppelin
(Got a higher paying gig at the Asbury Park Convention Hall in New Jersey that weekend)
•
Bob Dylan
(Turned it down because of his disgust of the hippies hanging around his house)
•
The Byrds
(Turned it down because of a melee during their performance at the first Atlanta International Pop Festival, held at the Atlanta International Raceway on July 4 and July 5, 1969)
•
Tommy James & the Shondells
(Turned it down because of being misinformed about the size and scope of the event)
•
Jethro Tull
(Turned it down because they thought it wouldn't be a big deal.)
•
The Moody Blues
were included in the original posters as performers, but backed out after taking a gig in Paris on the same weekend.
•
Spirit
(they had other shows planned and did not want to back out of their commitments; not knowing how big that Woodstock would ultimately become)
•
Mind Garage
(Declined because they thought it wouldn't be a big deal and had a higher paying gig elsewhere)
Comments
RE: Jefferson Airplane were the headliners Saturday night. Like Hendrix they closed AFTER the Who! It was Sunday morning when they closed Sat. nights show. You also missed 2 songs they played "the Ballad of You & Me & Pooniel" and "House at Pooniel Corners". After the Airplane left the stage they had "breakfast in bed for 1/2 million people", & Sunday's show didn't resume for a few hours with Cocker. Please adjust this. The Airplane were the biggest group & at their peak in 1969 not an opening act!
Rick Balin
Salamanca, N.Y. USA - Sunday, March 09, 2014 at 17:51:09 (EDT)
---
I was in a band at the time and our drummer heard about the 'Festival.' We thought it would be a trip to go and living in Annapolis, MD at the time, we knew we could drive there. We packed up the VW van and headed North. We got to the New York State thruway and barely made it to the exit. It took FOREVER to get near the place and we stopped at a sign that said "Bethel 10 mi." We figured it was not worth the hassle to sit in traffic for another 3 or 4 hours and turned around and went to New York City for the weekend. At our hotel, we watched on TV as history was made - each one of us blaming the other for not going all the way. Even to this day, in our 60's, we still tell everyone we 'went to Woodstock.' We just don't tell them we didn't get there...
Rob Williams
Orlando, FL USA - Friday, January 10, 2014 at 23:04:52 (EST)
---
I was just starting college in Williamsport,Pa.and was driving there when I came on a small group(5) of guys and girls going to some concert I had heard about on the radio but was unaware of where or when it was taking place.I ended up driving all the way to woodstock,not knowing some of my best friends were already there,and seeing all the people and cars just parked all over the place,I left!!! Dumbest thing I have ever done! After it was all over,my friends and I got together and that was when I really found out what all I missed! My one friend's Father died,while he was there!
E.Thompsom
Pa - Wednesday, December 18, 2013 at 14:18:53 (EST)
---
We went up a day early and parked our pickup camper about 1/4 mile from the entrance. The only things we brought with us were our tickets, water, snacks and lots of windowpane LSD. Never needed the tickets as the gates we're abandoned the first day, gave most of the water away to people who had none, shared the snacks with anyone who wanted some and I don' t remember exactly, but the acid was all gone by Sunday! We had the camper to get out of the rain but spent most of our time in the woods at the top of the hill wandering around with the other people wandering around! The music was great. The acts I recall the best were Santana, Ten Years After, Airplane and Sly. When we were leaving on Sunday afternoon it was very hot. We climbed on top of the camper for the slow trip out and the locals sprayed us down with hoses. All of us had to be back for Monday morning work except for me, I left Mon. afternoon for basic training in the Army at Fort Gordon, in Georgia. Talk about culture shock!! I'll never forget the time there that I remember, but I can't recall the whole weekend. Seeing the festival through the windowpane will do that.
Neil Van Wattingen
Secaucus, NJ - Tuesday, November 05, 2013 at 23:27:25 (EST)
---
On the first day of Woodstock (August 15) I was completing my last day of Army Basic Combat Training at Fort Jackson SC in the scorching heat not knowing what would be ahead for me. Would it be Vietnam like so many others in my company? I wonder how all those young Hippies escaped the draft and serving our great country. Maybe I wasn't in favor of being sent to Vietnam as a young man either, but duty called and I responded by enlisting for a 6 year obligation. I was no different than they were but I served my country honorably. While these hippies were having their sex and drinking their beer and smoking their pot and acid in the mud we were the ones who were fighting for their freedoms to be able to do those things in the rice patties of Vietnam. Those are my thoughts of WOODSTOCK.
Barry Brooks
Scottdale, PA - Saturday, October 12, 2013 at 22:49:36 (EDT)
---
i had the best time at Woodstock since I was conceived there! so i didnt hear anyone play but my parents said they had a blast ;)
kelly
indiana - Thursday, July 04, 2013 at 19:35:57 (EDT)
---
I lived less than an hour away (age 19, Dover Plains NY) and 8 miles away from Dr Tim Leary (Millbrook NY) Had a brand new Mustang, pocket full of orange sunshine and off I went....................... Now living in Palm Springs Ca and smile when I think about it.
David Wolven
Dover Plains, NY Dutches - Wednesday, May 29, 2013 at 21:44:25 (EDT)
---
I was one of the early ones we arrived on the 14th because we all lied to our parents and said we were all having a sleepover at donna's house and her parents were away on vacation for 3 days. We all had tickets,but when we arrived on the 14th there was no one there to collect them. We brought 2 tents there were 3 girls and 2 guys. We were high all the time. We drove up in My friends vocswagon bus. We were right in front of the stage. A lot of people were already there. I did pack a lot of stuff to eat because we didnt have much money so at least we were not hungry. What a life changing event. I never knew I would be a part of something so huge. I laughed,cried, sang and yelled so much I coulnt hardly talk. The love and sweet spirit that was there was just unbelievable.By the time we all climbed out of our tents the next day I couldnt believe my eyes. Wall to wall people. Going to the bathroom was a chore. When the bands started playing it was just so great..I think I hugged one thousand people that weekend. We shared our tents with a few other people because of the rain we were in the tents a lot but had the best seats in the house. Most of us the 3rd day we were high, tired, wet hungrey, but blown away by the music and the amount of people that came from all over the country. I think never will they ever be able to do this again that is why it was and is still the best concert ever. It was just a sighn of the time. love Peace and rock and roll mixed with a little rebelin it was a life changing movement. This music is still loved by all to this day..I will always remember this time of my life.
cindy atkinson
paulsboro, nj usa - Tuesday, May 14, 2013 at 14:41:14 (EDT)
---
I spent that summer in a wilderness area along the St. Croix River between MN and WI. Looked up at the moon from the woods and heard humans were there. Taught swimming to black and Italian inner city kids from St. Paul, MN. After camp broke up, headed east with a friend in his red convertible to visit his girlfriend in Boston. Kept hearing about Woodstock and went to Woodstock, NY to check it out, only to find it was happening closer to White Plains. Went there and saw what was being built. I stayed while my friend went on to Boston. I worked with the crew building a water system for the people who would be coming. Swam in the ponds naked with a couple hundred other beautiful people. Ate raisin carrot salads prepared by the beautiful gals from the Hog Farm. Meditated with everybody in the grassy hillside pasture. Tried to stay awake for all three-four days of music. Went up close to the stage on the second night and watched the Who followed by Jefferson Airplane as it started getting light. I got muddy like everyone else. All I ate was three raw potatoes which made me pretty sick afterwards. We all took so good care of each other and shared everything. It is my hope for the world that the spirit of Woodstock grows to lift us all.
Luke Lundemo
Jackson, MS USA - Monday, May 06, 2013 at 06:34:16 (EDT)
---
My folks had a summer house on White Lake just down the road from Bethel and Max's dairy farm. I bought a ticket for all three days. Had it for so many years until, now it's gone. But ya know, the memory, some it faded now, it is one of the most favorite of my life. Stayed for the whole 4 days. Finished up hearing Jimi Hendrix play the star spangled banner, wow! Crosby Still and Nash, still one of my favorites. I wish we could all go there again. Thank you, Love, Peace and Music.
Allan B
Flushing, NY USA - Monday, April 22, 2013 at 19:06:47 (EDT)
---
I went by myself, my friends didn't want to sneak out of their homes to go. I was only 14 when I made the trip up. I took buses and hitched rides. While there I made some good friends, one of which I still keep in contact with today! She took me home after the final day. Woodstock was one of my favorite moments. Sigh... What I'd do to go back and be a cute young thing again.
Pamela
Toms River, NJ USA - Thursday, March 14, 2013 at 15:25:44 (EDT)
---
Went up from Long Island in the back of a 18' hertz truck w/ 6-7 others.. no light just a couple of mattresses and a case of beer.. we looked like a boatload of Balken refugees when we unloaded. and walked a couple miles.. lost the truck with most of my clothes in it(too hot) so wandered around shirtless. Had to leave sun. a.m. to drive to Virginia so hitched back to the Island. got my moms car and made it to virginia as Hendrix was taking the stage. last act seen: Jefferson Airplane( after the Sat. nite lineup!) Spent much time in and around the "woods" and Wavy Gravys Hogfarm (Thanks for the Brown Rice and good vibes!). I was still high on acid when I hit the road.. missed some great bands sadly but what I did see, hear and do was/is still one of the most if not the most influential events of my life.. when I visited the site about 18 years ago. I wept at how it seemed as a dream. Max Yasgur's kind words still echo cross my mind... Fun and Music
Laurence Hugo 12/6/12
Larry
Charlottesville, Va. - Wednesday, December 05, 2012 at 19:23:20 (EST)
---
I ended up at the festival by coincidence. I was picked up hitch hiking on I-95 at Bangor by a young couple in an Econoline van. He was a carpenter, she was an artist. The van seemed to be full of canvases and tools. They were headed to the festival and I didn't know where I was going. I was heading south from Nova Scotia, so I asked to accompany them. I camped in my tent next to their van. Notable were running into my 17 year old brother in a Roy Rogers tent; jumping over the back stage fence to sneak into the stage area and carrying a movie camera up one of the towers beside the stage. I saw Sha Na Na, Crosby Stills and Nash, Jimi Hendrix playing the Star Spangled Banner, and a few more. A belated thank you to the girls who offered me help to bandage my hand after tearing it on the top of the chain link fence..... I was introduced to a couple of other folks who were headed to the west coast and ended up in San Francisco for a few months. I didn't really have an objective throughout. I had just received a 1Y draft status so just headed out, leaving home behind for a few months. It was an adventure.
Malcolm
Vineyard Haven, Massachusetts - Saturday, November 10, 2012 at 06:40:40 (EST)
---
i was there for the entire time start to finish
i remember various events and people i ran into
strange events. my jeans were almost fused to my body filled with mud
but who cared.. not me amidst the rain there was a peace
i wonder will ever be felt again
such brotherhood
i feel very very lucky to be a part of that generation
i am 62 now and still have that same spirit with twinkles in my eyes
please, love and rock 'n' roll


nina
forest hills, ny use - Wednesday, October 24, 2012 at 00:44:52 (EDT)
---
I was one of the people who actually bought tickets. My wife and I went on vacation, up through Cape Cod, Maine, Quebec, Toronto and back down through West Point. On the way to Woodstock, we were induced to park miles away both because of the traffic and the man who told us "It's not far from here." We were totally unprepared to sleep in the rain. We spent the night under some kind persons tent fly, and left the next day. Soaking wet, I got blisters on my feet walking about eight miles back to the car. We were glad to get to my in-laws place in Delaware, where we could get cleaned up and get some sleep. Oh well!
Bunker Hill
Spearfish, SD USA - Sunday, September 30, 2012 at 15:32:24 (EDT)
---
I was living in San-Fran at the time, along with (it seened) everybody else in the world, just hanging out, going to the bar where all these people would go and sing or free (they had a hat that you could put money in)when we first saw the posters announcing a concert coming up. Everyone I knew was going to go so I said W.T.F. and got a ride there with two friends that were going.
I remember switching drivers as we drove, because it was fun to do. We picked up three girls along the way and had the greatest time in Montana with them where we spent the night. When we woke up the next morning, the girls were gone,(they got another ride) but had left us food and a note thanking us for the ride both in the car and in the motel we ended up in. By the time we got to N.Y., it was raining and we had to walk in to the concert because of the traffic jam that was going on. The fences were already down when we got there, and each of us ended up crashing with someone else( we forgot to bring bedding) and spent the next (I want to say we were there for four days, cause we stayed to help clean up the place.)( what a wreck) But I have never had a better time since! Thank you Wavy Gravy for feeding us, Thank you to the young couple with the little boy who let me crash with them in exchange for babysitting him maybe three times, wouldn't see THAT these days) and to the girls (never did know their names)who left us enough food to last almost three days. To the people who gave me soap (YES, WE BATHED IN THE POND) and everyone else who helped me through the best experience I've ever had!!!
Ben Schrecengost
Cleveland, Ohio U.S.A. - Thursday, September 06, 2012 at 16:44:09 (EDT)
---
I just turned 19 a few months earlier and just graduated high school. We were hanging out in north-east Philadelphia and one of the guys said hey lets go to the rock festival in NY so we piled in 2 cars we really did not plan ahead just went to the store and picked up some food. I think it was 8 or 10 of us we left early Friday night it should of taken only a couple hours but we got stuck in the now famous traffic moved at a snails pace all night we pitched our tent between our cars and when traffic moved we just picked up the tent and moved it and put it down till traffic moved again. We did not get there till about 9AM Saturday morning. It was a great time. Not one recorded act of violence a few deaths from overdoses a few births. A whole lot of pot and other stuff. The music was great but we could not get close to the stage because the people kind of stayed in groups and did not leave the front area it looked like mud hole 6 inches deep because of all the rain I think Friday night but the love peace and joy part of the age was still the focus of myself and many others it felt good to be a part of it. Looking back I am glad I had this experience.
My oldest daughter went to the one in 1995 and also had a blast.

Norm Dennis
Philadelphia, Pa - Thursday, August 30, 2012 at 23:17:43 (EDT)
---
Back in 1969, when I was only 22, my husband and a friend of ours drove from Buffalo to Miami for a short holiday. We heard about Woodstock and decided to hit it on the way back from Florda. It never happened. A hurricane was happening the day we left Miami, a bad one, that followed us all the way through the south. There were 18 wheelers turned over on the highway and the driving was bad. We could barely see in front of us and had to pull over a few times. We had the radio on and kept hearing reports of Woodstock being a disaster area, with 500,000 people and mad rain. We heard the NY thruway was closed. Unfortunately, we had to change our plans. To this day I regret missing the most famous concert of all time...Woodstock 1969! I was almost a part of it.
Jane
Pensacola, Fl USA - Friday, August 17, 2012 at 13:26:43 (EDT)
---
Hippie Charlie and I were strolling around the campus at NAU in northern AZ. It was Friday Aug. 15, 1969. His best friend and a carload of students were taking an old 1957 Chevy across country to see " this huge concert in NY " everyone was going to see Jimi Hendrix and Joplin "wail!!" The car was packed so we declined. We had just got back from Haight - Ashbury and down to San Diego CA. We had a break- down in Los Angeles, and had to hitch-hike home so we were leary of another cross-country trip in an old car!! After they left we pitched a tent on the side of Mars Hill near the University and spent the weekend there. It rained in AZ that weekend so we stayed in, under the canvas tent-top to rest form our long journey home. When the sun came out we sunbathed on the incline and found our love and joy in each other and our youth and our loving God. We conceived our little baby girl Laura that Sunday Aug. 17, 1969 in the beautiful sunshine after a hard rain listening to Joplin ... wail on the big police-band radio. Now when I see my daughter who tuned 42 years old last May 2012, I think of what would have happened and how our lives would have been, had we squeezed in the back of that old Chevy and been there to say farewell to Jimi and Janis.
Cheryl Sanfedele-Kemper
HollySprings, NC USA - Friday, August 17, 2012 at 11:04:34 (EDT)
---
Lived in Wildwood, NJ, summer of '69...saw poster for concert...hitched ride with guys we met on the boardwalk...no idea of what was to come...thought we would be staying in a motel...traffic at stand still...found the guys after car parked...when rains came...tried to stay dry in the car for awhile. Separated ourselves from the guys and spent the next days loving the music and the circus atmosphere...appreciated the 'bad acid' warnings. People willing to share whatever they had to eat. Had to hitch back to NJ...guys left...sometime later after I returned to Pgh I received some contents of a bag of mine that the guys left with the stage hands. I remember a couple of items that were returned: a picture of my deceased father that I always carried with me and my contact lenses...not my harmonica or suede fringed beaded bag. I couldn't play the harmonica anyway. Throughout the years, I have been fortunate to see several of the musicians who played at Woodstock. Had it not been for this festival, I never would have seen Joplin, Hendrix, or Jefferson Airplane in a live performance. Forty three years later, I have amazing memories of my 'once in lifetime'.
Cindy
Pittsburgh, Pa - Thursday, August 16, 2012 at 22:20:38 (EDT)
---
I was disappointed that the movie didn't have the light shows. That was about the only thing we could see up on the hill where the storage trailers were.Had a great time. Sly was the best.The hills would echo some of his stuff.Creedence was good but their songs were too short. We left after about 2 songs from Jefferson Airplane. We were just too tired and the car was about a mile away.I'm always amazed about how much music I missed.Same thing happened at Atlanta Pop Festival. We decided we were too tired after a full day and night and were walking out the gate.I could hear a guy singing as we left.It was Joe Cocker's first American appearance.
Steve Young
Jacksonville, NC - Wednesday, August 15, 2012 at 13:24:33 (EDT)
---
God bless all you who were really there and have written your memories and comments. I was 14 and a corn hick hearing about this and wanting to try drugs and what I thought was super "hip". No, there was no way I was there but after all these years I now know the incredible influence the far-off stories of Woodstock '69 have had on my life. I learned to play guitar, bass, keyboards drum and sing because of it. I took a lot of drugs because of it. Later I discovered how to stop taking drugs but I have never forgotten the principles that I believed were valid because of it.
Now, at age 56, I would probably be considered a failure at life. But, you know, I don't really care. My life has been a varied and a very amusing journey because of what I believed that WOODSTOCK entailed. I envy all the souls who were lucky enough to have been anywhere close to seeing this miracle actually happen.
Of course, soon we will all be gone and it will pass into history.
SO PLEASE, RECORD WHAT YOU REMEMBER for the children who may care!

Thank you and Bless You All.
Barry
Lincoln, Ne - Sunday, July 15, 2012 at 01:29:52 (EDT)
---
I was three when this event took place. My parents took me to Woodstock and I watched the bands and sucked on titty the whole three day event.
Jo Jo
Orlando, FL - Thursday, July 12, 2012 at 17:40:44 (EDT)
---
I spent 2.5 days there it was hot. people were good. i will never forget it but just got dumped from my boyfriend and it was a crowd never to forget but was outside so it did not feel like five hundred thousand people. i lived in charlottesville virginia at the time. Do you have any photos of me. 24 years old.
pam quisling
nashville, tn usa - Monday, June 11, 2012 at 19:10:37 (EDT)
---
---
Compiled By:
Lew
Last Updated:
2013-14-09 First published

December 7, 2003




Comment Pages
DigitalDreamDoor lists are created, critiqued, and revised in the DigitalDreamDoor music forum and are meant to be a guide for discovering the greatest music in the category of your liking.
Mobile Device Home Page
digitaldreamdoor.com
Copyright © 2003

DigitalDreamDoor.com