Let's continue our ongoing series about "bird" and "animal" names in rock and roll history, this time delving into some water-based names.


Part 13


---
Blue Öyster Cult
| | |
| --- | --- |
| Amid many personnel changes and band names, the group Blue Öyster Cult finally figured out both and after a couple of albums that were recorded with the record label, Elektra (that were never released), the band signed on with Columbia Records. The group's self-titled release in 1972 that provided listeners' with what some say, was the precursor to heavy metal (although pale in comparison to today's standards) but, nonetheless was filled with expressive lyrics, melodic aggressive rock, overlaid guitars and lead guitarist Donald "Buck Dharma" Roeser's high-decibel power chords. The band toured extensively and was shock rocker Alice Cooper's opening act. Their live shows featured lasers, flash pots and Roeser's powerful guitar solos and the band's logo, the ancient symbol of Cronos, who was the Titan God who ate his son, the grim reaper. | |
But, it was the group's fifth album release, called "Agents of Fortune" that caught the ear of FM radio, especially the infectious mid-tempo Top 40 hit "(Don't Fear) The Reaper" (which was later featured in the classic John Carpenter horror movie Halloween). The cut is a staple for any classic rock radio station and is a mainstay on radio stations around the world.
Their next release did not have a song on it the caliber of "Reaper," but introduced audiences to the inane hit single "Godzilla" and the raunchy-rocker "R.U. Ready 2 Rock." After several album releases (including the band's second "live" LP "Some Enchanted Evening" -1978), the band released "Fire Of Unknown Origin in 1981 that included an eclectic mixture of metal, rock and pop and included the Top 40 hit "Burnin' For You."
Subsequent Blue Oyster Cult albums did not have the "swagger" or successful hit singles, but still cemented the group as a pioneering rock force (they disbanded around 1989).



---
Toad The Wet Sprocket
Toad the Wet Sprocket was a R.E.M. derived guitar-pop band from Santa Barbara, California. Their first two albums, 1989's "Bread & Circus" and 1990's album called "Pale" were kind of exploratory sounding efforts, filled with eclectic, graceful folk rock.

But as the band matured and refined their sound, it was the 1991 album called "Fear" that thrust the group into the national spotlight. The single "All I Want" hit the Billboard Hot 100 (peaking at number twenty) and another single from the release, the catchy tune called "Walk On the Ocean" also hit the top twenty and was aided by heavy video exposure. These hits and the musical greatness of the LP helped the album soar to platinum status.
Their popularity increased when the Toad the Wet Sprocket (the name of the group
is taken from a Monty Python skit called "Rock Notes") song "Brother," was included in the Mike Meyers film "So I Married An Axe Murderer" in 1993. In 1994, after years of constant touring, the band released the album "Dulcinea" and that album produced a number one U.S. Modern Rock chart hit with the single "Fall Down" and a number five Mainstream Rock chart hit with the cut "Something's Always Wrong." Like its predecessor, the album was certified platinum by the RIAA.
In 1995, the band released a compilation album of B-sides entitled "In Light Syrup." It includes the singles "Brother" as well as the single "Good Intentions," which was featured on the hit television show for NBC "Friends." The band cut what would be their last full studio album entitled "Coil" in 1997. The album is a well-crafted mix of melodic acoustic pop and featured the single "Crazy Life." However, despite the success of these singles, the album failed to reach prominent sales figures and ultimately the group formally broke up in July of 1998, citing creative differences.
But, the band has temporarily reunited for special occasions including playing a benefit for the Rape Crisis Center in Santa Barbara as well as opening a few shows for the Counting Crows. In 2004, the group released a live album from a show from 1992 and in the summer of 2006 the band reformed for a thirty-four date national tour. One can only guess if the band will record again, but all the band members are still active in the music business. Glen Phillips started his solo career immediately after the break up and tours constantly and has released three solo efforts "Abulum in 2000," "Winter Pays For Summer in 2005," and "Mr. Lemons" in 2006 as well as performing with Nickel Creek.



---
Jerry 'Swamp Dogg' Williams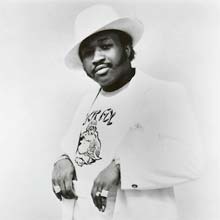 One of the more interesting characters in rock/soul music is a man named Jerry Williams, better known as Swamp Dogg. This eccentric, wear-your-emotions-on-your-sleeve rhythm and blues, rock musician has had an entertaining and brilliant career.
The fact that Williams has created his own legend (he claims he had no proper education and woke up one day to find himself a musical genius) only adds to this Virginia native's mystique. Outspoken, controversial, yet somehow mesmerizing, this eclectic soul singer and song writer released his debut album "Total Destruction to Your Mind" in 1970. The album is full of rock and funk masterpieces as he cleverly mixes his Zappa-like lyrics about commercialism and capitalism, his bent views of women and his shout-out political views with infectious music and a dash of humor.
And, yes, his albums are obscure (he never went "mainstream" and that may be the alluring attribute that people are attracted to) and he has continued to make records, albeit infrequently, since 1969. His records are hard to come by, but if you are lucky enough to find one you will be lucky enough to hear one of the quirky and seminal musical minds perfect his craft.

Stay dialed in to DigitalDreamDoor.com for more of this interesting article series!


---


Blue Öyster Cult Tidbits:
Due to their unique sound and diversity, Blue Öyster Cult have been very influential to many modern bands that span many genres, and are often viewed as important pioneers of several different styles of rock music that came to prominence in the 1980s and 1990s. Many heavy metal bands have cited them as a major influence, and bands such as Metallica, HIM, and Iced Earth have covered their songs on studio recordings and during live performances. The song "(Don't Fear) The Reaper" has also been covered by many diverse artists, notably The Goo Goo Dolls, The Beautiful South, Wilco, and Big Country. The legendary rockers have sold over 14 million albums worldwide.
In 1983, BOC released the LP "The Revölution by Night." The album's highest-charting single was "Shooting Shark," which was co-written by Patti Smith (it reached #83 on the charts). "Shooting Shark" also featured Randy Jackson, of Earth Wind and Fire, and later American Idol fame, on bass.
The name "Blue Öyster Cult" came from a 1960s poem written by manager Sandy Pearlman. It was part of his "Imaginos" poetry, later used more extensively in their 1988 album Imaginos.
---


Toad the Wet Sprocket Tidbits:
Although Toad the Wet Sprocket formally broke up in July 1998 (citing creative differences) they have gotten together many times. Here is a look at some of the concerts:
During the summer of 2007 they played several shows with lead singer Glen Phillips serving as their opening act.
On January 16, 2008, the band reunited once again to play two shows - one in St. Petersburg Florida then the next night at the House of Blues Orlando prior to joining The Rock Boat VIII.
On June 11 & 12, 2008, they played in Philadelphia and New Jersey at the Trocadero and Starland Ballroom respectively.
On June 14, 2008, they played at the 27th Annual Alexandria Red Cross Waterfront Festival.
On June 15, 2008, the band performed at The Norva in Norfolk, VA. One of the show's highlights was the band performing Glen Phillip's solo hit "Everything But You".
On December 19, 2008, the band performed on The Adam Carolla show at the Canyon Club in Agoura Hills, CA.
In May of 2009 they played a four show mini-tour including two nights at the intimate 400 seat venue The Ark in Ann Arbor, Michigan.
---


Swamp Dogg Tidbits:
The cover of his 1971 album, Rat On! featuring Williams on the back of an oversized white rat, was ranked as one of the worst album covers of all time.
Williams is also a noted songwriter and record producer. Artists he has worked with include Doris Duke, Irma Thomas, Z.Z. Hill, Dee Dee Warwick and Arthur Conley.
---
Article by: Robert Benson